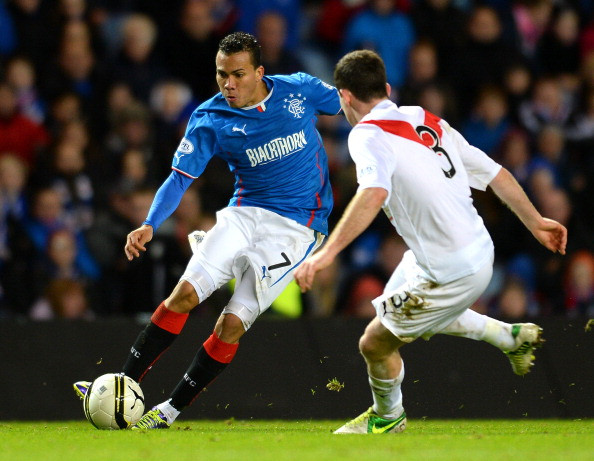 Honduran international footballer Arnold Peralta was killed after being shot in the car park of a shopping mall by an unknown assailant on a motorbike in his hometown La Ceiba. The former Rangers midfielder was reportedly on his way home after buying clothes for his newborn baby when he was shot several times.
Police, who are yet to catch the assailant, said it was not a robbery attempt since all the belongings of the 26-year-old player were intact. One of the bullets hit Peralta on his head.
"We don't have more details about the crime, but we've put up checkpoints in the entrances and exits of the city to be able to carry out the investigation and get the people who did this crime and respond to society's demand," a police spokesman told the Associated Press.
Witnesses said the attacker did not exchange any words with the player before shooting him. Peralta was accompanied by fellow football player Marcelo Canales, of Club Deportivo Vida, at the time of the shooting.
He died of multiple gunshot wounds to the skull, face, chest and anterior-posterior thorax. "The cause of death is cranial trauma and a total of 18 shots were fired on him," the Department of Forensics was quoted as saying by football website Diez.
Honduras is plagued by gang violence and has one of the highest murder rates in the world with 90.4 homicides per 100,000 people, according to the UN. By comparison, the global average intentional homicide rate is 6.2 per 100,000 people.
The Olimpia club, for which Peralta played, posted a condolence message on their Twitter handle. "We deeply regret the death of our player Arnold Peralta. The Olympian family mourns."
The football star started his career in Honduras's Club Deportivo Vida and represented the national team in the 2012 London Olympics. He was ruled out of the 2014 Fifa World Cup in Brazil over an injury. Peralta also played for the Rangers Football Club in Scotland 24 times between 2013 and 2015, after which he joined Olimpia.