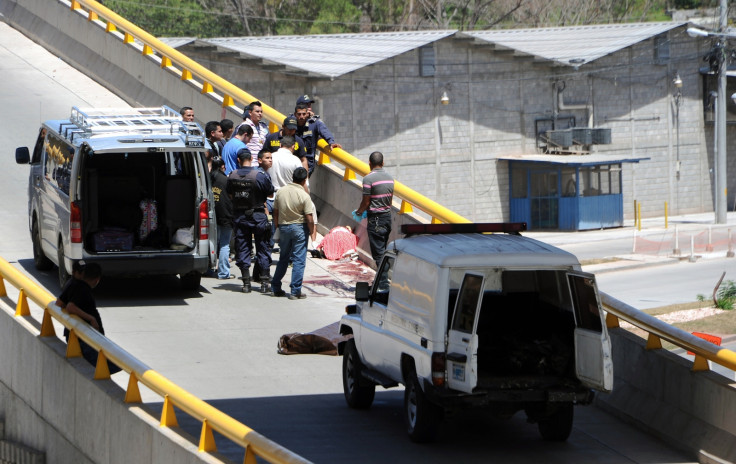 The women were working for a promotions company and killed while travelling to an event, say police.
They were murdered after a motorbike and pick-up truck intercepted the van the models were travelling in. The attack happened when they were leaving the highway and travelling on an overpass.
The gunmen reportedly asked for the name of one of the girls, shooting her first, before killing her two companions, a police spokesperson told reporters.
According to the El Heraldo website, the women were shot "repeatedly" in the head, arms and chest, and they would have died "instantly".
The victims were named as Blanca Alejandra Velasquez Mejia, 20, Madelyn Ramírez Zambrano, 21 and Alma Mariela Ordóñez Vargas, aged 28.
Ministry of Security spokesman Leonel Sauceda said the models killed were with six men and two other women on the minibus.
They had been touring the country as part of a series of events and entertainment, according to La Tribuna.
Post-mortem examinations and forensic examinations of the scene are being carried out.
Commissioner Sauceda said the women asked for protection from the police as they were scared for their safety.
"Following the request," he said. "They were provided with a patrol to provide security until they reached Zambrano and on Saturday they stayed at a hotel in the capital.
"If [on Sunday] they had asked us for support, we would have gladly provided it," Commissioner Sauceda added.
Police say they have not ruled out the possibility that the attackers were after one of the women and the other two were killed in crossfire.
The reason of the attack is unknown, but Honduran newspaper Tiempo reported that the three models were the victims of a kidnap attempt the day before, which was prevented by police.
According to the United Nations Office on Drugs and Crime, Honduras – with a population of approximately eight million – has the highest rate of intentional homicide in the world, with up to 79 people killed out of every 100,000 in 2013.