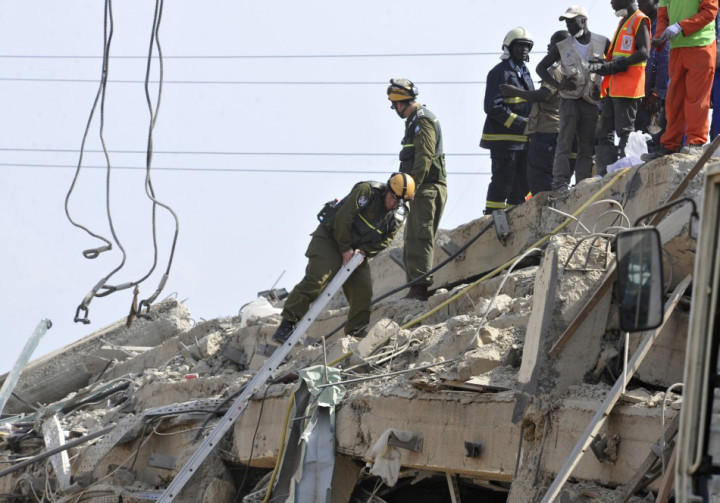 Authorities in Ghana have detained a municipal works official accused of allowing the construction of the multi-storey building which collapsed yesterday, killing at least 18 people.
Carl Henry Clerk is accused of allowing the construction of the building to take place even though he had been alerted that it had no permit and had not passed a safety inspection.
Police are also searching for the architect and the engineer of the building, which collapsed just nine months after it had been constructed.
Kate Adobaya, a spokeswoman for Ghana's National Disaster Management Organization, blamed the building collapse on basic structural weakness.
Meanwhile President John Dramani Mahama has said that those responsible for the negligence "will pay a price".
According to Ghanaian media, the owner of the building, Nana Kwesi Boadu, handed himself into authorities when it emerged that he was also wanted for questioning.
However he told Ghana's Peace FM: "There is no way I will put up a building and do a shoddy work.
"I have tried to get in touch with the contractor but to no avail, but we have not given up; I am sure we will get in touch with him soon. Every document needed to help in the investigations I will provide.
"I have a file full of documents and receipts showing the building permit fees."
The building was being rented by Melcom Ltd but the retail company did not construct the building.
Rescue effort ongoing
A rescue operation is still continuing in the Ghana capital of Accra, after the Melcom Shopping Centre collapsed.
More than 70 people have been pulled alive from the rubble but rescue officials believe more bodies may be trapped in the debris.
Kofi Portuphy, the head of Ghana's National Disaster Management Organisation, told Reuters: "It is now clear that more people were in the shop than initially estimated, and it is difficult to tell the actual numbers at this moment."
Mahama said he has suspended his electoral campaign ahead of next month's poll because of the incident he refers to as "a tragedy for Ghana".