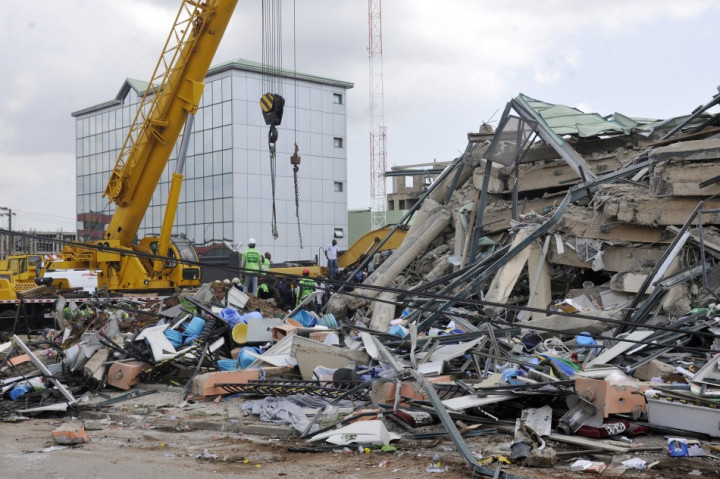 Authorities have blamed faulty construction for the collapse of a multi-story shopping centre in the Ghana capital of Accra which killed at least nine people and trapped dozens more.
Officials have said the Melcom shopping centre did not have the necessary permit and had not passed a safety inspection.
President John Dramani Mahama visited the scene of the tragedy, saying those responsible for the negligence "will pay a price".
The building collapsed just nine months after it had been constructed.
Kate Adobaya, a spokeswoman for Ghana's National Disaster Management Organization, blamed the building collapse on structural weakness.
"The foundation was not good enough," she said, adding that crews worked in shifts through the night to search for other possible victims.
Magnus Quarshie, vice president of the Ghana Institution of Engineering said: "They [Melcom] didn't have a permit, which means that AMA (Accra Municipal Authority) may not have assigned a building inspector.
"From the inspection we have had, we can see it's a structural failure. We can tell the concrete mix was not to the specifications we require."
A rescue operation is currently continuing in the Achimota neighbourhood of Accra. Around 70 survivors have so far been pulled out from the rubble. It is not known how many people are still trapped inside.
A statement on Melcom Ltd's Facebook page said it had only rented the building.
It said: "We are doing everything possible to see that help reaches those who need it. Our heartfelt condolences and deepest sympathies goes to the families of those who may have lost their lives."
Mahama said he has suspended his electoral campaign for next month's poll and referred to the incident as "a tragedy for Ghana".
He said: "I decided to call off my campaign to come and have first-hand information about the incident," he said when visiting the site on Wednesday.
"A committee will be set up to investigate the cause of the accident, and whoever is found culpable will be dealt with."