Ukip-backed Leave.EU will campaign from the left to secure Brexit, says founder Arron Banks
The Eurosceptic campaign plans to woo trade unionists and Labour supporters in a bid to secure a Brexit.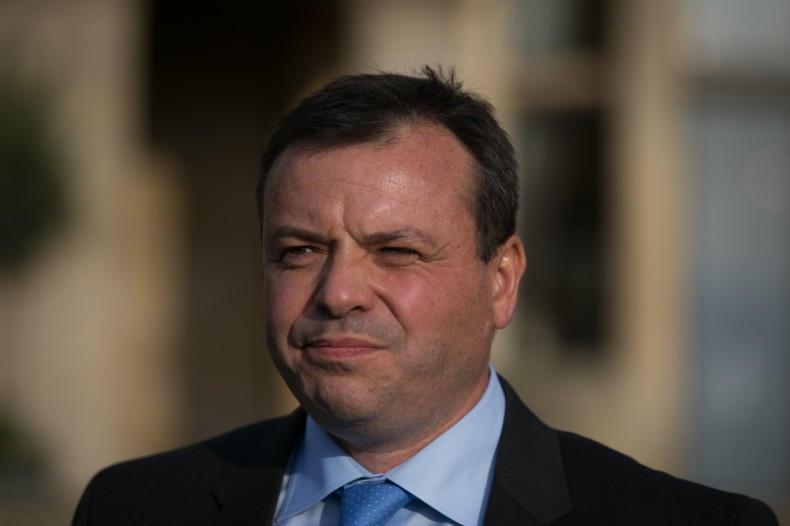 A Eurosceptic campaign – backed by Ukip – plans to woo trade unionists and Labour supporters in a bid to secure a Brexit at the EU referendum, its founder told IBTimes UK. Arron Banks, a Ukip donor who set up Leave.EU, revealed his group's internal figures suggest four million Labour voters would be needed to breakaway from Brussels.
"We are working very hard on trade unions to get them in to the campaign," the businessman said. "Our campaign will defiantly be becoming more from the left than the right." The comments come after the militant Rail, Maritime and Transport Workers (RMT) voted to campaign for a Brexit.
But Banks would not confirm nor deny if he had been in discussions with Mick Cash's union. "We've been talking to all sorts of people," he said. However, the former Conservative donor did claim that 20% of his group's 250,000 backers are Labour supporters.
The Leave.EU campaign, which was renamed from The Know after the Electoral Commission changed the referendum question, is up against Vote Leave to win the Eurosceptic nomination and the taxpayers' money that comes with the position.
'Outside the Westminster bubble'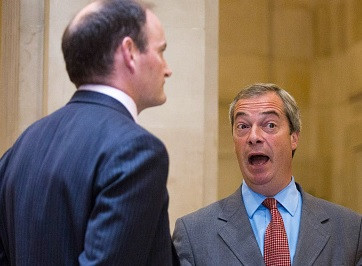 Douglas Carswell and Nigel Farage
Getty
Banks billed his group as the grass roots campaign and was keen to claim that Vote Leave, which is run by TaxPayers' Alliance founder Matthew Elliot and former Michael Gove special advisor Dominic Cummings, is seen as a "Tory front" and is part of the "Westminster bubble". Vote Leave declined to respond to these comments.
"We appeal to the masses. If you look at the way we have set about doing things, we have got 175,000 followers on Facebook and we are trying to reach out to the general public with quite specific techniques," Banks argued.
"My background is running direct insurance companies and we are applying industry techniques to build a mass following." His remarks come after a run in with Ukip's only MP Douglas Carswell at the party's annual conference in Doncaster.
The pair fell out after Banks suggested the Conservative defector should be deselected after he threw his support behind Vote Leave, instead of his Ukip-backed Leave.EU group.
Carswell reportedly confronted him over the issue, which led to Banks attacking the Clacton MP as "borderline autistic". He later apologised for the remarks, but not to Carswell.
Nigel Farage, who has apparently had fallings out with Carswell in the past, got involved in the row by claiming that the former Conservative had "residual loyalties" to his old party. But despite having Farage on board after Ukip nearly secured four million votes at the general election, Banks explained Leave.EU will use numerous spokespeople ahead of the referendum.
"If you have a leading figure, you will lose. You have to have lots of different spokespeople and lots of different voices. No one trusts politicians or big business anymore," he said. The diversity move, which saw Richard Tice appear on the BBC's Andrew Marr show on 11 October, is backed by Gerry Gunster.
Banks explained the Washington elections guru, who was hired by Leave.EU in September, told him that up to 30 people speaking on different topics in a variety of ways would be vital. "If it becomes a popularity contest, with a central figure, then the campaign will be lost," he said.
'Richard Branson puts people off'
But whoever is used as a spokesperson for Leave.EU, the group is up against a formidable opponent in the shape of the pro-EU Britain Stronger in Europe campaign. The organisation has the backing of the three living former prime ministers – Tony Blair, Sir John Major and Gordon Brown – as well as the support of business heavyweights like Virgin founder Sir Richard Branson and The Apprentice star Baroness Brady.
Stuart Rose, the former chief executive of Marks & Spencer, helped launch the group's campaign alongside TV presenter June Sarpong on 12 October. Banks said he thought the East London event looked rushed.
"They didn't really want to come out and they've been artificially pushed or rushed into doing it because our campaigns are going so well. It had an element of being of rushed," he argued.
"This is about the people's referendum so one of the ideas that we have is to get spokespeople who have had normal lives, as opposed to these big names. The Richard Bransons of this world put off as many people as they please – a bit like the Farage thing in a way."
But in Stronger in Europe's defence, their campaign has only just started and it could be as long as two years until the historic vote is held since Cameron has promised to stage the referendum before the end of 2017.
As for where the British public are at, the latest poll from ICM puts remain five points ahead (44% verses 39%). The survey, of more than 1,900, is the latest piece of research to suggest that it's all to play for as Cameron continues his renegotiation with Brussels.