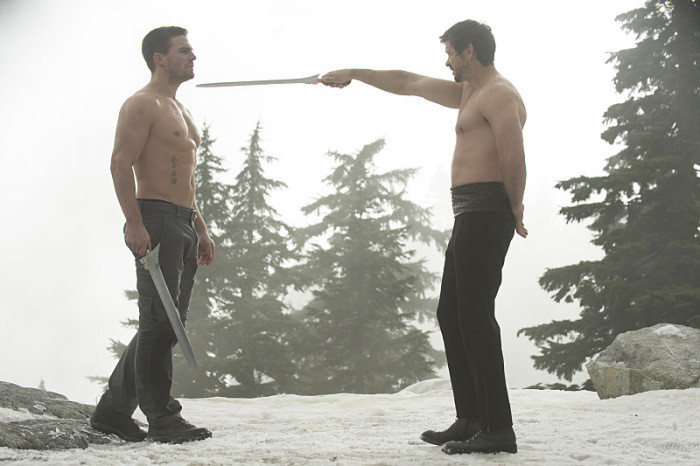 Arrow Season 3 returns from its midseason break, tonight (21th January, 2015) with new episode titled 'Left Behind'. The episode will explore the aftermath of Oliver's disappearance as other members of Team Arrow take charge.
Here's the official synopsis for Left Behind:
"In the aftermath of Oliver's (Stephen Amell) fight with Ra's al Ghul (Matt Nable), Diggle (David Ramsey) and Arsenal (Colton Haynes) continue to protect the city in the Arrow's absence. However, after three days without hearing from Oliver, they begin to fear the worst may have happened to their friend. Felicity (Emily Bett Rickards) refuses to believe that Oliver could be dead until Merlyn (John Barrowman) pays the team a surprise visit.
Thea (Willa Holland) suspects there is something more behind Oliver's disappearance and asks Merlyn for a favour. Meanwhile, Ray (Brandon Routh) tests a part of his new suit and Laurel (Katie Cassidy) takes up the mantle of the Black Canary."
Meanwhile, the show's lead star Stephen Amell spoke to TV Line and revealed some interesting details about the upcoming episodes - especially what fans can expect regarding Oliver's storyline.
When asked what he can say about Oliver's circumstances right now, Amell replied, "In the present day? Nothing. Dragged on a rickshaw through the cold and the wind and the rain and snow, and hopefully heading for recovery."
The actor also teased that scenes - post his falling off the cliff (in the midseason finale) - might be shown as flashbacks in later episodes.
"Clearly, we've seen from the preview, we're going to revisit the spot of the duel with Ra's. And then as far as recovery goes... again, hopefully. But Oliver's story, however it plays out, will continue to be told in real time, and the flashbacks will continue. The basic construction of the show will remain the same."
Amell also (finally) confirmed the existence of The Lazarus Pit on the show. Earlier rumours suggested that the healing powers of the Lazarus Pit will bring Oliver back but Amell himself shot down that theory.
"That's not something that's going to be used for Oliver," Amell revealed in an earlier interview.
The other thing fans seem to be quite excited about is Katie Cassidy making her small screen debut as Black Canary in the upcoming midseason premiere of Arrow.
Check her out in the new promo below. There are also a few brief shots of Firestorm in the video if you keep your eyes open.
Arrow Season 3, Episode 10 'Left Behind' airs tonight (Wednesday, 21 January) at 8pm ET on The CW.
You can click here to watch the episode online on the CW official website.