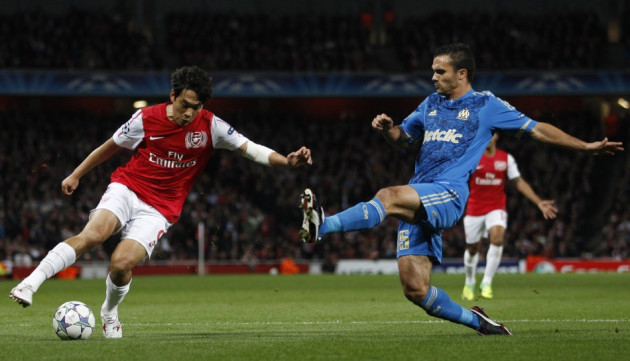 Arsene Wenger has admitted it was "a gamble" to rest Robin van Persie for Arsenal's goalless draw against Marseille in the Champions League.
Van Persie has been in exceptional form for Arsenal in 2011, scoring 28 goals in 27 appearances prior to Tuesday night's match against the Ligue 1 side.
Wenger opted to start South Korean striker Park Ju-young ahead of the Dutch striker and an insipid display by the home side followed as the match finished 0-0.
"The reason I left Robin out was physical tiredness - that's all. He would have to play 50 matches a year. He cannot play 50 games," Wenger told ESPN.
"It was a bit on the edge. It was a gamble. You can say it didn't come off. He had a great chance when he came on.
"I believe you cannot just say that one player always has to make the difference. It was a game where we were not the sharpest physically. We lacked a bit of class in the last 30 metres."
Wenger acknowledged that the 5-3 victory at Chelsea on Saturday may have contributed to his side's lacklustre performance last night.
"Emotionally more than physically maybe [it took it out of us]," Wenger added. "Marseille were physically impressive. We lacked a bit of sharpness.
"It is difficult to be on a high three days later but we still had the opportunities.
"[Aaron] Ramsey in the first half had two great chances and Gervinho had a great chance. In a game like that you expect to take one of those chance."
Arsenal remain odds on to progress from Group F but they will be determined to finish top after the frustrations of last season's European campaign. In November, Wenger's side lost their last two group games - finishing second - and paid the penalty with a last-16 meeting against Barcelona.
But victory in the next match at home to third-placed Borussia Dortmund, the Gunners should be well-placed for the trip to Olympiakos in the final group game.
"We took four points from Marseille in two games," Wenger added. "We are in a strong position. It's good that we didn't concede."