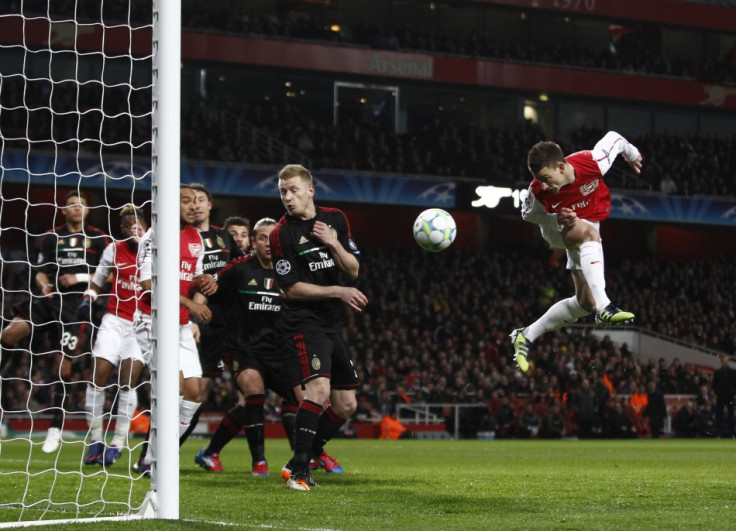 Arsene Wenger has insisted he is proud of Arsenal after they nearly staged one of the greatest comebacks in Champions League football, with the Gunners losing their round of 16 match-up with Inter Milan 3-4 on aggregate.
After going down to the Serie A side 4-0 in the first leg, all looked lost for the club that had pinned all their hopes on winning the Champions League and ending their trophyless spell. When the north Londoners went up 3-0 at half time in the second leg though, hope was restored that they might do the impossible.
But as Theo Walcott and Alex Oxlade-Chamberlain were substituted for Park Chu-Young and Marouane Chamakh, Arsenal's inexperience started to shine through, and the side were unable to convert again, resulting in an eventual loss.
Wenger was still proud of his squad though, admitting that they tired after putting their all into beating Liverpool at the weekend.
"We gave a good performance tonight and we are disappointed because we touched qualification," he told the official Arsenal website. "We had the chances and we didn't do it, but we were very close.
"I felt that we suffered a bit in the second half physically because we gave a lot at Liverpool.
"Overall I feel we didn't have many options on the bench in midfield and in the second half we had more problems keeping the ball than in the first half.
"When we tired in midfield we had no options on the bench and the regret I have is there. The players put in a faultless performance, with fantastic spirit and you can only congratulate the whole team."
Wenger said that while it wasn't his best night, he was nothing but proud of the efforts the Arsenal players had put in to claw back the big lead.
"I don't know if it is one of my proudest nights but it is a night when players can be proud to play for this Club because they put every effort in," he explained.
"If you win 3-0 at home you can only say well done to the players. You know that if you play 180 minutes and you miss 90, it is difficult at this level. We were very close."