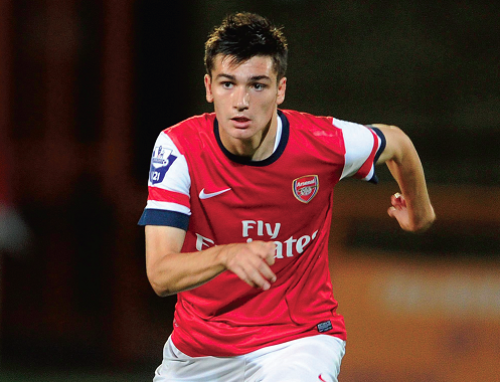 Who is Jon Toral:
An elegant central midfielder who has been blessed with a wonderful touch and a supreme range of passing. The 17-year-old spent eight years perfecting his craft in the famous Barcelona youth ranks before being tempted to move to Arsenal along with his good friend Hector Bellerin in a deal that crushed Barca president Sandro Rossell who had high hopes for both players.
Toral had scored 14 goals in 20 games for the Barcelona Under-16 side and would move to north London for just £300,000. He quickly excelled in the Arsenal academy before an injury cut short his first season. He has since established himself in the NextGen side and scored the crucial third goal in the 4-2 win over Athletic Bilbao that secured qualification to the knockout stages of the tournament.
Having won his first professional contract in February last year, there is a hope that Toral can go on to emulate the achievements of another Barcelona youngster who moved to Arsenal and forced his way into the first team as a teenager.
"Cesc Fabregas was an influence because he came over and ended up as the captain and a great player for Arsenal," admits the midfielder whose vision and ability on the ball can certainly compare favourably with that of the former Arsenal skipper.
While it may be difficult for some young players to adapt to a new culture, Toral has taken it effortlessly in his stride and credits his mum, who is English, as one of the main reasons he choose to move to the Emirates. Having forced his way into the Arsenal Under-21 side he will be looking to follow in the footsteps of Serge Gnabry and Thomas Eisfeld who have both made their first team debuts this season.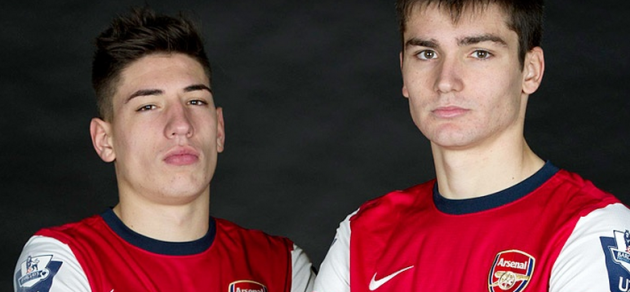 Toral on......his football philosophy
"We have to deal with different problems and circumstances in football and, in my mind, moaning is just a waste of time and energy. It creates negative thoughts and room for excuses. I don't believe in excuses in football. I believe that the only thing that's important is to give everything, to do the best possible in whatever circumstances. Having the right attitude is so important. Having talent is key but you have to make the most of it, and having the right attitude is essential."
Toral on.....recovering from his injury set backs
"I had to get my knee sorted. I'd had surgery on the same knee two years ago but I could feel it wasn't right in the first few months of last season. I kept on playing even though it felt painful and my knee kept locking up. I was concerned that it was preventing me from playing to my best so it was decided I would have further surgery
"I came back early in the summer to get things right. I was in training on July 1, some ten days before everyone else, and worked with fitness coach Craig Gant. I needed to build up more slowly than the other guys. I was able to do the pre-season running with the other players once they returned, but couldn't do any ball work. That had to be restricted to my training sessions with Craig.
"The good news is that my knee feels really strong now and I am still getting fitter with every game. The fact that I now play in the Under-18s, the NextGen Series and Under-21s has been ideal for me to build up my strength and match fitness."
Toral on....playing in the NextGen series
"I enjoy playing in any game, but the introduction of the NextGen Series has added more interest for us because it's a new experience. We play against different styles of play and in countries around Europe and that makes the competition more special."
Toral on....representing Spain at Under-19 level
"I'm playing with guys who are playing first-team football in Spain, in the Champions League and Europa League, so the standard is very high. They are always asking questions about England and where we live, what we do when we're not training, about training itself. They're all quite interested, and we just tell them how much we are enjoying it here. It's been fantastic."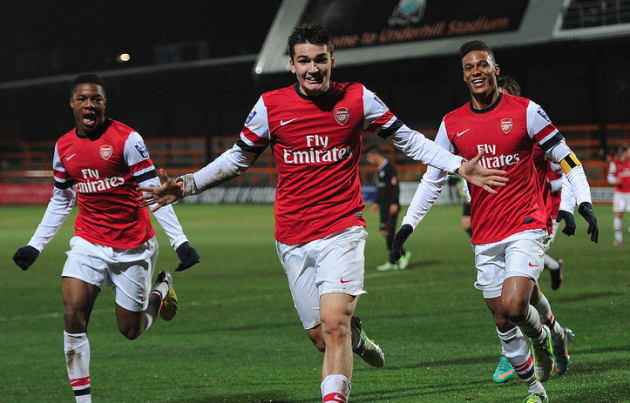 Strengths:
Like so many Spanish midfielders, Toral has that rare ability to find space and never appear rushed when on the ball. His vision and ability to play a pass means that he can dictate proceedings from the centre of the pitch and he has a real desire to get forward. He has also been blessed with instant control and a wonderful left-foot.
Weaknesses:
Toral is aware that he must work on his right foot as he awards himself just four out of ten when marking different aspects of his game. His slight build may also make it difficult for him to adapt to the physical nature of first team football in the Premier League and he may well have to work hard on developing his strength in order to hold of players, much in the same way Jack Wilshere was able to do from a very young age.
Will he be a success at Arsenal?
Barcelona were convinced that Toral would go on to emulate the likes of Xavi, Andrs Iniesta, Cesc Fabregas and Thiago Alcantara by progressing through the youth ranks and into the first team. His performances for Arsenal at various youth levels have demonstrated just why coaches at the Spanish side had this belief. He has a similar style to that of Chelsea's Josh McEachran in the way he controls the game from central midfield. He certainly has the natural ability and stresses the importance of having the right attitude to go alongside his talent. Learning from his fellow Spaniard Mikel Arteta will only help him develop and there is a genuine chance that Arsenal have unearthed a talent similar to that of Fabregas.
Special thanks to the Arsenal media team for the additional content provided and if you want to see the Arsenal youth team in action then check out their FA Youth Cup 5th round game vs Everton at Underhill on February 18 - KO 7pm (tickets £3 adults, £1 concessions).