Arsenal manager Arsene Wenger hopes Sam Allardyce "can clear his name" with the England manager facing the possibility of losing his job.
Allardyce was the target of an undercover sting operation carried out by the Daily Telegraph, which claims he used his position to negotiate a £400,000 deal for public speaking events.
The former Sunderland manager was also caught on camera mocking his predecessor Roy Hodgson and also appeared to tell undercover journalists they could navigate their way around transfer rules relating to third-party ownership, which was outlawed by the FA in 2008.
But Wenger, the first Premier League manager to discuss the scandal, urged for Allardyce to be given time to explain himself.
"I can't tell you anything about that. I haven't even read the story. I would not like to come out on that," Wenger told a press conference ahead of Arsenal's Champions League tie with Basel on Wednesday.
"It is too damageable and too heavy, you have to let Sam Allardyce defend himself and I hope he will clear his name."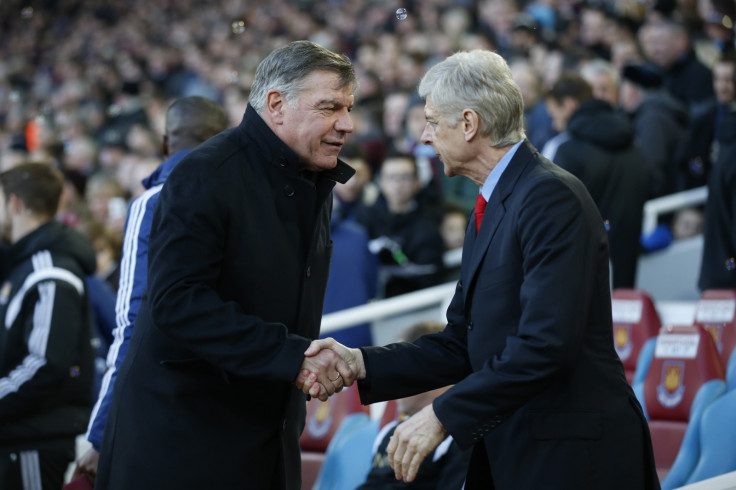 Wenger continued: "Nothing is proven. At the moment it is only suggestions. We live in a society that is very quick to accuse people."
The footage of the England boss, which the Telegraph claim is from August, shows him meeting with men claiming to represent a firm from the Far East eager to involve themselves in the lucrative world of English football. In their meeting, Allardyce told the undercover reporters it was "not a problem" to navigate past third-party ownership rules and claimed agents were doing it "all the time."
Wenger, a long-standing critic of third-party ownership, reiterated his stance on the subject when quizzed by reporters. "Third-party ownership should not be allowed. I have fought against it for a long, long time. The clubs should all possess 100 per cent of their players."
Ahead of a busy week of Champions League football, Celtic manager Brendan Rodgers was also asked about the investigation ahead of his side's clash with Manchester City. The former Liverpool manager was critical of the approach used by the Daily Telegraph reporters. "What a tactic that is," he said. "He's just going into the job. It's embarrassing for part of the [media] profession. I've nothing to say or add to it."