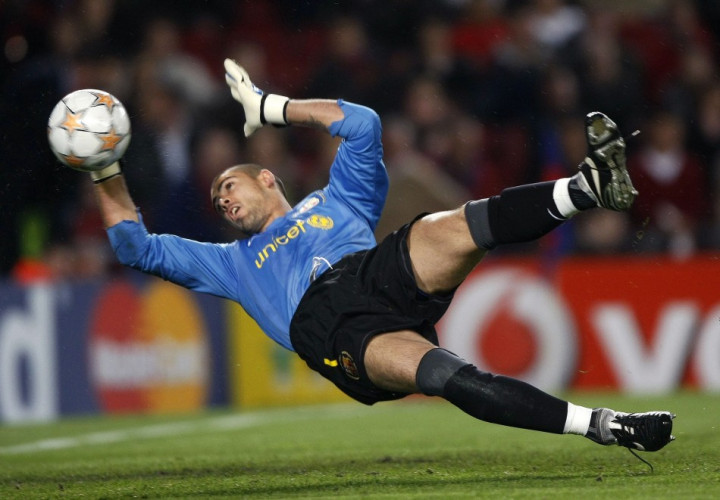 Arsenal and Manchester City have received a massive boost in their chase for goalkeeper Victor Valdes after Monaco reportedly decided to break a pre-contract agreement with the Barcelona star.
The 32-year-old whose contract is set to expire at the Camp Nou on 31 June has already confirmed he is going to move somewhere else in search of a fresh challenge.
Even though Arsenal, Manchester City and Liverpool were monitoring his situation reports claimed earlier this year that Monaco had agreed terms in principle with the keeper to move to the Ligue 1 side next season.
However, according to prestigious French newspaper L'equipe Monaco have finally decided to break the pre-contract terms with the player due to concerns about his fitness.
The Spanish international tore the anterior cruciate ligament in his right knee in March and he is still expected to be out of action for the first part of the next campaign.
Furthermore, Monaco have been impressed with their current Number one, Daniel Subasic's performances during the past season and they don't want a high-profile keeper like Valdes impede his development.
Should the reports be true, Arsenal City and Liverpool may be tempted to renew their efforts to sign the player on a free transfer.
Manuel Pellegrini is desperately looking for a number one to replace Joe Hart while Arsene Wenger is also on the market for a keeper following Lukasz Fabianski's departure.
Meanwhile, reports in Spain earlier this season claimed that Liverpool were also monitoring the situation even though the club spent £10m on bringing in Simon Mignolet last summer.
Valdes himself has never hidden his admiration for the Premier League, even saying it would be a good option for him.
"I've always identified with your football, the way the supporters live the game and the respect they show the players," he said earlier this year.
"It is one of the biggest leagues in the world, with the best clubs in the world and, without a doubt it's a very good option for me."