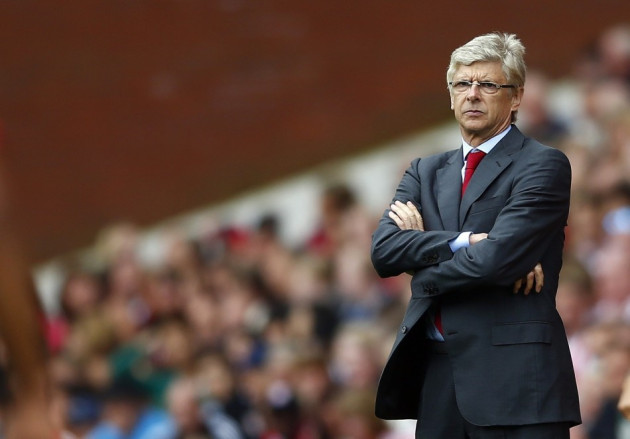 Arsene Wenger has revealed Arsenal were nervous at the start during the Gunners' 1-0 defeat at the hands of Manchester United at Old Trafford.
The north London side conceded a goal from a set piece as the former Arsenal skipper Robin van Persie headed the ball into the net from Wayne Rooney's corner. The Dutchman's goal was the difference between the two sides at the end as United sealed three crucial points before the international break.
Arsenal were attacking in the second half, but were unable to find the much needed equaliser. The Frenchman is disappointed after his side's defeat against the Premier League champions.
"I felt that we were a bit nervous at the start of the game and didn't play our game against a team of Manchester who was nervous, a bit insecure and we gave them a little bit of comfort by making the mistake at the first set-piece - or the second," Wenger told Arsenal's official website.
"After that we lost too many balls and we rushed our game in the first half. In the second half when we played our game we played in one half and they counter-attacked a few times but we didn't find the opportunity to equalise.
"We had the opportunities but we missed always a few inches to push the ball in the net and they were well focused to defend and defend and then try to catch us on the break - that happened once or twice in the game. Overall it's disappointing to lose the game like that because I think we had the opportunity at least to get a draw out of this game," he added.
United's victory over Arsenal has now seen them climb to the fifth spot in the table with 20 points from 11 games, trailing league leaders Arsenal by five points. The weekend fixtures saw Manchester City and Tottenham Hotspur suffer defeats as Chelsea drew at home.
The weekend results have seen top eight teams being separated by six points. Wenger claims the race for the title is likely to go down till the end of the season.
"Six points is not too bad after 11 games," Wenger said.
"What we have learnt again today is that not only that Man United could beat Arsenal but everybody can beat everybody in this Premier League. Sunderland beat Man City and that shows you how much excitement you will have until the end of the season," he added.