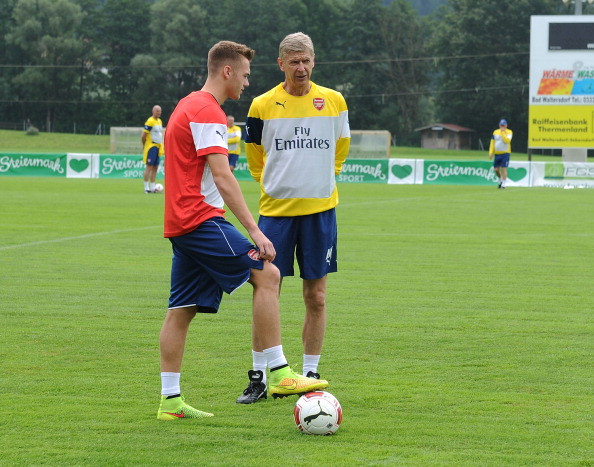 Arsenal summer signing Calum Chambers has revealed he used to clean Rickie Lambert's boots during his early days in the Southampton academy.
The 20-year-old versatile defender move to the Emirates Stadium this summer after manager Arsene Wenger agreed to pay around £16m to Southampton to secure his services.
Chambers has now revealed during an interview with Arsenal's official website how his days in the Southampton academy cleaning the boots of the first-team squad have helped him keep the feet on the ground and adapt to life at Arsenal.
"[At Southamtpon academy] if anyone steps out of line or comes in and thinks they're bigger than they are, they are told straight away. Everyone's feet are kept firmly on the ground, which I think is good. The educational and welfare side help you learn how to be a young professional," he said.
"That matures everyone at a younger age and helps you progress quicker as a result. I cleaned Rickie Lambert's boots for a couple of seasons – sometimes on cold winter nights. We were each given a player whose boots we had to clean at the end of every day, even if it was raining or snowing. That's another way of grounding people too. It was good for us."
Chambers believes this is one of the key secrets of the prolific Southampton academy.
Nevertheless the English international followed the footsteps of Theo Walcott and Alex Oxlade Chamberlain who left the Saints for the Emirates Stadium this summer while Real Madrid star Gareth Bale also emerged from the South Coast side before moving to Tottenham.
Chambers indeed claimed the trio inspired him to make his breakthrough in Southampton's first-team before moving to the Emirates Stadium.
"Theo Walcott. Theo, because he was breaking into the first team when I was younger. Gareth Bale was in that bracket too, and then Alex Oxlade-Chamberlain came through a few years later, so the younger players at the club had a lot of players to look up to. That inspired us all because we could see them making it into the first team, which gave us the incentive to push on a lot more," he said.
"Theo's a top professional. I look up to him and respect him massively. He's been really good to me as well. He's been really supportive and I feel like if there's anything I need, I can go to him and ask. He's the kind of guy who will give you his full attention. He's done so well since he's been here, and so has Alex."