Arsenal are in Istanbul to play their Champions League tie this evening against Galatasaray, in a stadium famous around the world for its hostile atmosphere.
As Arsenal step onto the turf they will be greeted by the noise, flares and jeers that the home fans like to refer to, presumably only half-jokingly, as 'hell'. But It will probably feel more like a holiday.
In fact, the abuse the Arsenal players get in Turkey will not be nearly as intense or mean-spirited as what they have been subjected by their own fans in recent times.
It's all getting rather dull to discuss, and certain sections of the Arsenal support seem to be in a competition with the first team as to how low they can sink. I've covered it here enough over the last few weeks to have grown weary of it, to say the least.
This weekend saw a dismal away defeat at Stoke, during which there were reportedly fights amongst supporters in the away section, followed by some booing and jeers at the local station as the team boarded the train home.
If you've seen ArsenalFanTV on YouTube, it becomes more like an episode of the Jerry Springer Show every week. Two groups of fans are arguing endlessly with each other over the same topic ad infinitum whilst getting increasingly worked up. The papers and websites are absolutely loving it and continue to stir the pot for their own profit.
It's quite depressing. If you care about the manager enough that you're willing to fight someone over it, unveil a huge negative banner after a win, or follow the team to the train station just to call the manager a w*nker, then you have some serious problems of perspective and need to take a step back and a deep breath of fresh air.
That's enough about that. Thankfully Arsenal have another game this evening and tonight should be an interesting game. The Gunners are already qualified for the knockout stage and the chances of winning the group are fairly improbable, so Wenger took the unusual step of naming the first team at his press conference on Monday.
Many of Arsenal's first team regulars have been left back in London to get some much needed rest, amongst them Koscielny, Gibbs, Monreal, Cazorla, Alexis, Welbeck, and Giroud.
Therefore this was the team which Wenger confirmed in his press conference : Szczęsny; Debuchy, Mertesacker, Chambers, Bellerin; Flamini, Oxlade-Chamberlain, Ramsey; Campbell, Podolski, Sanogo.
Arsenal have also taken a selection of young players with them to Turkey and the likes of Chuba Akpom and Gedion Zelalem could feature from the bench.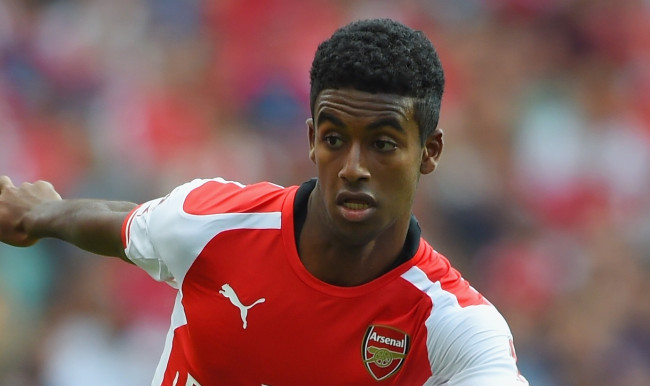 The most striking thing in the line-up is the front three of Campbell, Podolski and Sanogo - three players who have spent most of this season looking on from the sidelines, and will hopefully use this game to prove themselves to the manager.
There have been plenty of rumours about Podolski leaving the club in January, and he has come out on a couple of occasions saying he is unhappy not to be playing. Campbell looks equally likely to leave in the transfer window, but probably on loan, while Sanogo seems to be the man preferred by the manager as back-up more often than not.
Chambers, Bellerin and Debuchy have all primarily been deployed as right-backs, so it will be interesting to see who plays at left back and alongside Mertesacker, while the midfield three of Flamini, Oxlade-Chamberlain and Ramsey is probably a little on the light side. Wenger has made it no secret that he considers Oxlade-Chamberlain as a central midfielder, so it's always good to see the youngster get a chance there.
It all has a bit of a Carling Cup feel to it, but it's still a Champions League match so hopefully the players will be up for it, and while the match isn't very important unless Dortmund lose, it should be intriguing for Arsenal supporters to get a look at the lesser used squad players this season.
John Henson edits and writes for long-form football blog Proven Quality and runs a network of football news aggregation sites, including Arsenal News.
An Arsenal fan who now lives in Spain, John can be found tweeting under the Proven Quality account @provenquality.