Danny Welbeck will have hoped for a better showing on Saturday. Given the fact that his old teammates were in town, he will have wanted to give a good account of himself, win the game and maybe score a goal. Instead, Welbeck failed to score, and Arsenal lost on what became a miserable Saturday evening for the club's fans.
If you were to give a mark to Danny Welbeck for his performances so far in his first season at Arsenal, you'd struggle to mark him higher than a B. Welbeck, for the moment, seems to be a player quite well-suited to Arsenal, constantly flirting with greatness, but, so far, struggling to achieve it.
Welbeck, who will turn 24 this week, certainly looks like he has yet to reach his peak. At Arsenal however, it seems he may be granted the patience to progress, which he was never deemed worthy of at Manchester United. At United, Welbeck was rarely given a chance up front, invariably being shunted out on to one of the wings. Welbeck however seems to relish the striking role and with England has displayed the sort of composure that he has so far been unable to reproduce at Arsenal.
Arsenal have been crying out for a real cutting edge this season and unfortunately Welbeck has been unable to provide that as a central striker, scoring only two goals in the league so far. Olivier Giroud, by way of contrast, has managed to score the same number of goals from only 86 minutes of Premier League football; few fans would have believed at the end of last season that Giroud would have a more efficient minutes-to-goals ratio than any striker brought in to compete with him, but that's where we are.
Saturday's defeat was a strange one because you would be hard pushed to say Manchester United deserved to win the game. Arsenal were exerting more pressure, creating better chances, and after all United didn't manage a shot on target until the last five minutes. The problem for Arsenal again was that they seem to have developed a nasty habit of conceding goals from the relatively few chances that they allow the opposition to have, and fail to make the most of their own opening. Here, Welbeck must consider himself somewhat responsible.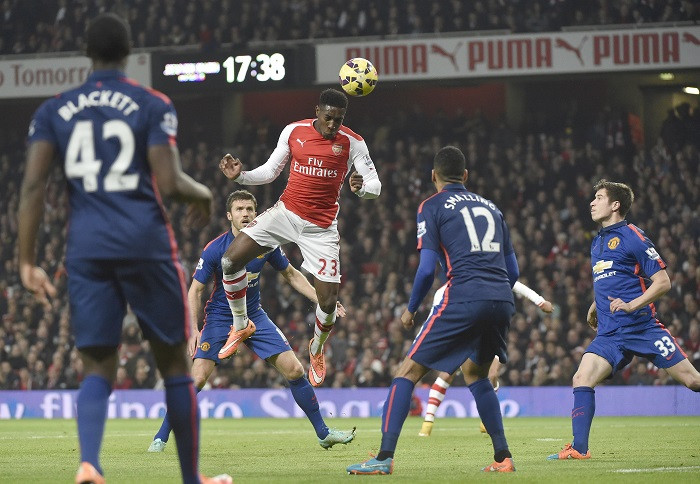 On the face of it, Welbeck looks to have almost all the qualities a player needs to become a good striker. He is very quick, makes intelligent runs, is fairly good in the air (although considering his height, he could be better) and has a decent passing game, having already grabbed a couple assists this season.
In short, he has every asset you would look for in a modern, mobile striker except one: clinical finishing. With an average of 3.4 shots per game, Welbeck has the most shots of any player at Arsenal, but a return of only two league goals is unimpressive.
It remains to be seen how Arsène Wenger will accommodate Welbeck, Giroud, Sanchez and Walcott once all are fit. Wenger is a manager who seems to stick by his players when all others have given up hope, but one would imagine that with Giroud and Walcott coming back from injury, Welbeck will have to find his shooting boots soon if he wants to keep his place up top in a single-striker system.
Manchester United supporters seem as desperate for Welbeck to fail at Arsenal as the man himself is to succeed, in order to vindicate selling him to a rival for only £16 million. Welbeck hasn't had the dream start he would have hoped for, but he is doing a lot of things right and has time on his side. If he ever can find his shooting boots, that fee will be a pittance.
John Henson edits and writes for long-form football blog Proven Quality and runs a network of football news aggregation sites, including Arsenal News.
An Arsenal fan who now lives in Spain, John can be found tweeting under the Proven Quality account @provenquality.