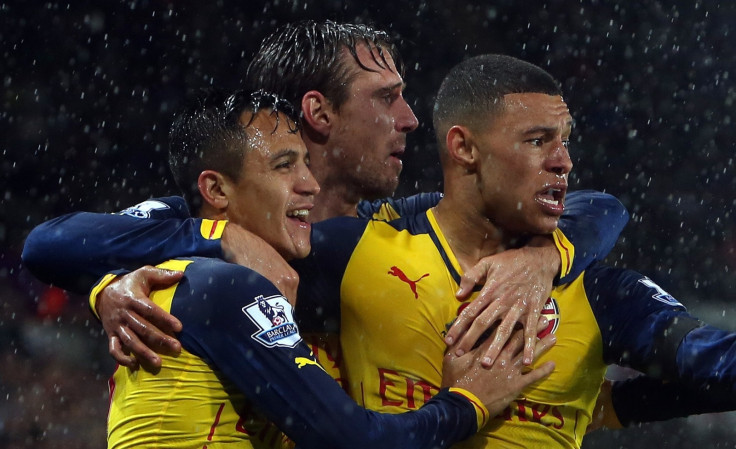 Arsenal forward Alexis Sanchez will avoid burnout in his debut season in the Premier League due to his incredible engine, according to Alex Oxlade-Chamberlain.
Sanchez took his club tally for the season to 17 for the Gunners after netting twice against Stoke City, while the Chile international also laid on his ninth assist of the campaign after setting up Laurent Koscielny's opener.
The 26-year-old's combative style has defined the early months of his Arsenal career but, following a lean spell of form over the Christmas period, fears were rife that manager Arsene Wenger's over-reliance on him may have backfired.
However, Sanchez's timely return to form suggests the ex-Barcelona man is up to the challenge of spearheading the club's Champions League charge and Oxlade-Chamberlain has been inspired by his energetic displays.
"He absolutely loves it," said the England international. "He is like a Duracell battery. He just does not give in.
"Whether it's a cup competition or times when you think maybe it could be a chance for him to come out and rest, he is the first one to say he wants to play and he always wants to be a part of it.
"I am sure if the boss wants to rest him, he would respect that as well. But his attitude and the way he approaches training, you wouldn't think he was tired and the way he is playing, you wouldn't take him out of the side either.
"Hopefully he can keep his fitness and keep going the way he is. But the athlete that I see every day, I can't see him falling short anytime soon."
Arsenal are currently without eight first-team players due to injury, with Mathieu Debuchy becoming the latest addition to the club's treatment table after suffering a dislocated shoulder against Stoke.
Such has been the north Londoners' uncertain start to the season, the club could ill-afford being without Sanchez for an extended period of the campaign, not least due to how he has motivated other members of the Arsenal squad.
"When you see someone working hard from the front and maybe if they close three players down and they don't win the ball back, and then you are not there to back him up, you do have to look at yourself and think 'why was I not there to help my team-mate out?'" added Oxlade-Chamberlain.
"It does set the tone for the rest of the team, the boys up front. If they react quickly when we lose the ball, it brings the midfield with them, full-backs and the defenders to switch from attack to defence. It is something that we work hard on.
"Alexis does it better than anyone I've seen. He's come from Barcelona, it is a strong philosophy that they play by - when you watch Barcelona, they do that - so maybe he has picked that up there and brought that to us in every game he has played.
"There are definitely a lot of boys learning from him and you can always learn from him because he does it really well."