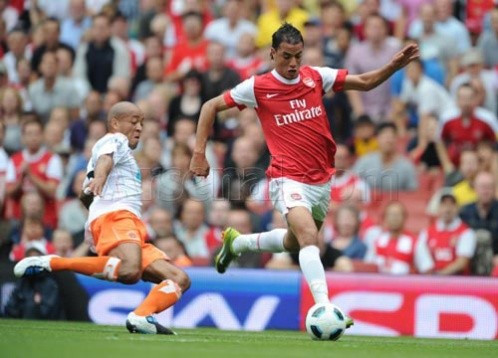 Marouane Chamakh has admitted that he will reconsider his commitment to Arsenal at the end of the season, with the striker revealing that a return to French side Bordeaux might be on the cards.
Chamakh has struggled for game time at the Emirates so far this season, with Robin van Persie staking claim to the number one striker position, which Arsene Wenger has admitted will be a problem as the Morocco international fights for more game time.
And while Arsenal have taken the stance that they hope to keep their front man in the next transfer window, Chamakh believes he may need to move elsewhere to get more time on the pitch.
"I am 27 and I need to play," he said, as reported by Sky Sports. "I cannot stay like this forever. I won't leave in January, but I will take an important decision in June.
"I was surprised by the offers I got last summer, but my priority was to stay at Arsenal. A return to France? If so, it will be to Bordeaux."
If Chamakh does leave Arsenal, the club will be left very thin on strikers. Gervinho is set to leave the club, along with Chamakh, to head to the Africa Cup of Nations in January, and while van Persie is currently in top form, should he become injured, the club will have trouble finding depth in their squad as they continue to push for a top four position.
Arsenal suffered a particularly disappointing start to the season, as the side struggled to adapt to life without Cesc Fabregas and Samir Nasri. But van Persie's form has catapulted the Gunners back into contention for a Champions League place, and with the Dutchman having scored 19 times for his club this season, Chamakh has struggled to get a look in from Wenger as he decides each week's team selections.
In October, Wenger insisted that Chamakh was still an important member of the Arsenal squad, though he did admit that van Persie's form would be a problem as the sharp shooter fights for a place in the starting line-up.
"Marouane is not going anywhere; there is not a problem with Chamakh," he said at the time.
"He is fighting for the position with Robin van Persie who is in great form at the moment. He will get his chance, we have so many games."
Now, Chamakh's future looks to be dependent on whether Arsenal purchase another striker in January, and as he heads off for international service during the transfer month, it is likely that Wenger will want more support up front.