Francisco Román Alarcón, or Isco as he is better known, represents the next generation of Spanish football, the latest off a production line that has produced world class players in Pep Guardiola, Xavi, Cesc Fabregas, Xabi Alonso and Andrés Iniesta.
At 5ft 9" and with a slight build, he maintains the tradition that, in Spain, you do not need to be a physically domineering athlete. Instead, like the midfielders before him, he possesses a great awareness of the game and huge ability on the ball.
A member of the Spain side which finished third in the Under-17 World Cup, Isco has been promoted through the youth system and has played at every level for his national side.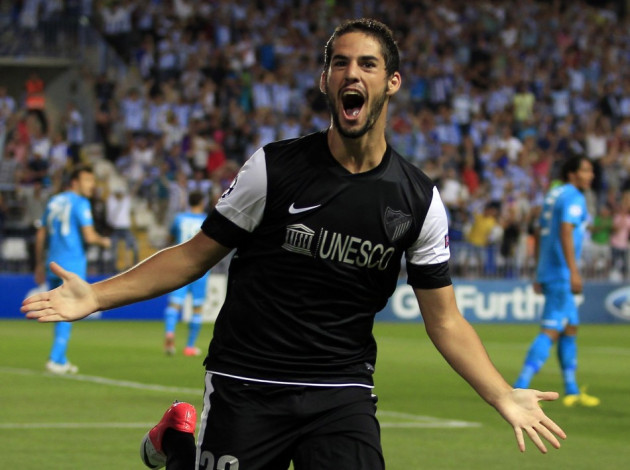 He excelled for the Under 19's, scoring seven times in 12 games, while his record at Under-21 level is equally impressive, with five goals in eight appearances.
Having been signed by Valenica as a 14-year-old, Isco came through the youth system at the Iberian club and looked to follow in the footsteps of David Silva who went on to become a regular for both club and country.
However, after being limited to just four league appearances, Valencia decided to part company with the promising midfielder after receiving an offer of €6million from Malaga.
Isco had demonstrated his potential by scoring 15 goals for Valencia B and was soon given the opportunity to impress at Malaga. He made 32 league appearances in his first season and scored five goals.
During the summer he was a member of the Spain side which competed at the Olympics - in a tournament fans would rather forget - before learning that Malaga would be forced to sell a number of players.
The financial situation at Malaga meant that their star man Santi Cazorla was sold to Arsenal. The void in the team would be filled by Isco and the pressure of matching the hugely talented midfielder was placed on the 20-year-olds shoulders.
His response has been hugely impressive. In four league games, with few giving Malaga a chance of recreating their heroics by finishing fourth last season, Isco has excelled, whilst also catching the eye in Europe.
Malaga have won three and drawn two in the league. After qualifying for the Champions League they beat big spending Zenit St. Petersburg 3-0, thanks in large to two outstanding goals from Isco.
This has led to the attacking midfielder being linked with numerous Premier league clubs, with Arsenal said to be leading the chase. They have already profited from the poor finances at Malaga by signing Cazorla and may well look to Isco as another bargain buy.
The youngster has a buy-out clause of £16million, but Arsenal may well feel that a lower offer to the cash-strapped club could be accepted.
However, it is not just Arsenal that have been linked with Isco. The British newspapers are full of speculation and it seems Liverpool and Tottenham are also keen on the midfielder.
Liverpool reportedly see the Spaniard as the ideal player to eventually take over from Steven Gerrard, while Tottenham are also believed to have shown an interest.
Liverpool may well struggle to find the funds after failing to make a significant offer for Clint Dempsey who instead decided to join Tottenham.
As long as Isco continues to shine both domestically, and on the European stage, then there is bound to be interest from the Premier League.
With a reputation that is only likely to be enhanced this season, we could well see some offers from England when the January transfer window opens.