Kieran Gibbs believes he is fully prepared to battle Nacho Monreal for the left back position in the Arsenal starting XI.
Arsenal Wenger brought the Spanish defender to the club during the January transfer window after Gibbs was side-lined with a thigh problem, allowing the new arrival to immediately stake a claim for a first team spot.
The 23-year-old Gibbs returned to the first team fold in early March, but has struggled to fully displace the former Malaga full back, featuring for the Gunners on three occasions compared to Monreal's four since recovering from injury.
While Gibbs has been given the nod in Arsenal's last two matches against Norwich and Everton, the full back understands there is a challenge on to take a spot in the first team, but one that will fully benefit the club.
"I know that playing for your place is part of the game it's a part of life," Gibbs told Arsenal's official website. "I have to deal with that. As long as I keep giving everything for the team and everybody does that, it's only good for the club."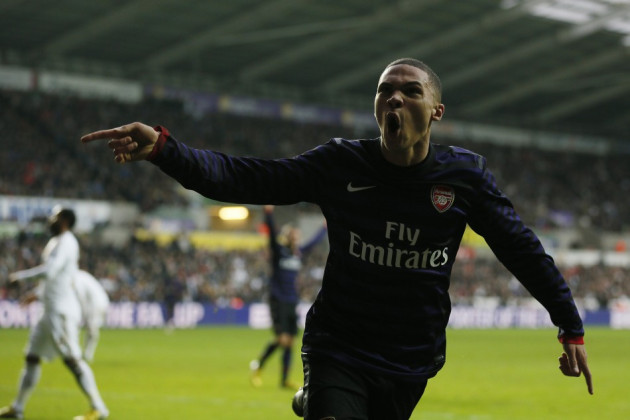 Since their 2-1 loss to Tottenham at the beginning of March, the Gunners put together four back to back wins prior to Tuesday night's draw with Everton, a run which has strengthened their hopes of securing a top four spot and a place in next year's Champions League.
After bringing in Santi Cazorla, Lukas Podolski and Olivier Giroud last summer ahead of Monreal's arrival, Gibbs believes Arsenal are now beginning to feel the effects of a team fully integrated which each other, something that may not bode well for Chelsea, Tottenham and Everton in the race for a top four finish.
"If you look at the team, there are a lot of new players and now it is coming to the end of the season, you are starting to see the players know each other a lot more," the defender added.
"You can see that in the last run of games that the players have a better understanding of each other. I feel like we look more of a team in the last few games we have played."
Arsenal currently sit third, two points clear of their two London rivals, but have played a game more than Tottenham and two more than Chelsea.