Full time: Fulham 1-3 Arsenal
Full time: Everton 0-0 West Brom
Full timeL Hull 1-0 Norwich
Full time: Newcastle 0-0 West Ham
Full time: Southampton 1-1 Sunderland
Full time: Stoke 2-1 Crystal Palace
Full time: Aston Viilla 0-1 Liverpool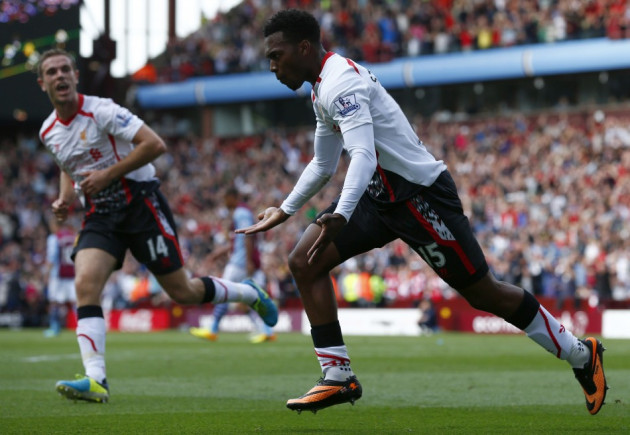 19:30: Not the goal-laden Saturday we were treated to last week, but who are we to complain? Join us tomorrow when Manchester City travel to Cardiff City while Tottenham Hotspur host Swansea City.
19:27: That's two wins from two for Brendan Rodgers this season. Liverpool's growing penchant for a meticulous and controlling possession game reigned in the first half as Villa struggled to get hold of the ball and were never far from panicking when they did. A wonderful individual effort from Sturridge - a strong contender for goal of the weekend - proved to be the difference, but the home side can take heart for their second half performance. Mignolet again proved to be decisive.
Full time: Aston Villa 0-1 Liverpool (Daniel Sturridge, 20)
19:17: Sturridge chases down a hopeful ball ahead of Okore when he collides with an onrushing Guzan. The American appears to make first contact with the player before the ball, but the Liverpool striker's appeal is a subdued one as the referee waves play on.
19:13: Agger fails to clear a header that is nodded back into the fray by the towering Nicklas Helenius, who has just come on for Westwood. The ball loops back into Benteke who hits a fierce drive on the bounce, only to once again be brilliantly denied by his compatriot Mignolet, who makes an excellent save at his left hand post.
19:10: The impetus is now firmly with Paul Lambert's side. Although clear chances are still proving hard to come by, the intricate possession football Liverpool dominated with in the first half has faded.
19:06: Okore does well to get back up on his feet and continue a positive run having been clipped by Coutinho. The Dane plays it to Tonev who directs a sweet stike towards Mignolet's goal, but the Belgian deals with it fairly comfortably.
19:02: Benteke muscles off Kolo Toure to take down a cross before nudging the ball into the direction of Agbonlahor. The 26-year-od's meets with a volley from 12 yards out, but it screws wide of the left hand side of the goal. Good chance.
18:58: Minutes after Benteke sends a header just over from a corner kick, Wiemann gets himself on the end of a swinging cross from Bacuna and meets the ball with a swivel header that drifts just wide. It would be the Austrian's last action of the game as Alexander Tonev comes off the bench to replace him.
18:55: Time for the first glimpse of Ali Cissokho in the Premier League as the powerful left back is introduced with just over 20 minutes of the contest remaining to replace Iago Aspas.
18:53: Villa manage to work a good opening on left hand side through Delph, with the former Leeds United man swinging a tempting cross into the box. Weimann may have been better off shooting for himself when the ball came to him, but opted for a pass before the move trickled away.
18:48: Matt Lowton joins his fellow full back Luna in the referee's book.
18:45: A little bit more belief reverberating around the Villa team now. Benteke elegantly plays the ball to Agbonlahor through a swish overhead kick, who then plays the ball across to Westwood. who unleashes a powerful effort that veers just over Mignolet's cross bar.
18:41: Villa win a free kick about 30 meters outside of the Liverpool goal. After a quick board meeting with Fabien Delph, Bacuna strikes it, but it doesn't get past the Liverpool wall.
18:38: Agger goes head to head with Guzan to meet an inviting cross and loses out as the American gets a strong hand to the ball. A quick check from the Liverpool medics and the Dane is back on the pitch.
18:36: Okore does well to fend off a relentless Daniel Sturridge who follows the Dane back into the corner. The 20-year-old centre half impressively holds of the Liverpool striker to clear.
18:32: And we are back, Liverpool get the second half started.
18:29: Some quick stats for you:
Possession: Aston Villa (43%) Liverpool (57%)
Shots: Aston Villa (6) Liverpool (4)
On Target: Aston Villa (1) Liverpool (1)
Corners: Aston Villa (4) Liverpool (0)
Fouls: Aston Villa (4) Liverpool (4)
Bookings: Antonio Luna, Fabien Delph (Aston Villa), Glen Johnson, Iago Aspas (Liverpool)
18:21: The verve and dynamism that was such a striking facet of Villa's performances against Arsenal and Chelsea have been sorely lacking in the first half at Villa Park, leaving Liverpool to largely dominate and deservedly lead through Sturridge's splendid finish. The home side appeared to awake from their slumber in the last five minutes of the half that yielded a couple of testing moments for the Liverpool defence and one fine effort from Benteke. Lambert will expect more in the second half.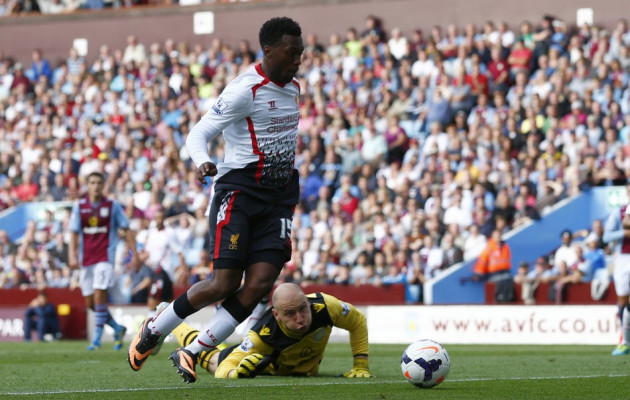 Half time: Aston Villa 0-1 Liverpool (Daniel Sturridge, 22)
18:14: Paul Lambert's side pressurising the Liverpool goal as Kolo Toure struggles to deal with a looping ball into the box which eventually falls to Andreas Weimann. His effort is deflected over for an eventually disappointing corner.
18:12: Villa fashion their best opportunity of the half when Ashley Westwood's corner - the first for either side in this game - landed to Benteke, who unleashed a spectacular effort from the edge of the penalty area only for Simon Mignolet to leap across the ball and palm the ball away. Villa firmly awake now.
18:11: Kolo Toure has to cover for his defensive partner as Bacuna skips past Agger with ease into the box, only to be blocked by the big Ivorian.
18:05: A rarity as Christian Benteke fails to control the ball on the edge of the box as it bounces off the Belgian into Kieren Westwood. The midfielder sends a searching ball out to Lowton, who can't keep the ball in play.
18:02: Liverpool smell blood and are increasingly looking down the inside right, marshalled by summer arrival Antonio Luna, who has had a troubling evening.
17:59: There would be no prizes for guessing that this is the first time Ron Vlaar and Jores Okore have played alongside each other. Sturridge is leading them a merry dance with his intricate movement, with his midfield behind him firmly dictacting proceedings.
17:52: Fantastic finish from Sturridge, his second goal in two games. Coutinho dummies a ball played in from Jose Enrique for Sturridge, who had an awful lot of work to do. Taking the ball in his stride before side stepping the Villa defenders with tremendous poise, the 23-year-old rounded Guzan but had been pushed slightly wider than preferred with Villa bodies scattered across the line. With not much to aim at Sturridge toe pokes the ball into the net. Brilliant effort.
Goal! Aston Villa 0-1 Liverpool (Daniel Sturridge, 20)
17:46: Jose Enrique giving Bacuna a tough evening so far, twisting and turning to leave the Villa youngster in a world of his own before playing the ball to Coutinho, waiting on the edge of the penalty area. The Brazilian goes for finesse, which abandons him on this occasion.
17:41: Sturridge takes down a wonderful cross field ball from Jose Enrique on the inside right to play a one two with Jordan Henderson, before the alert Antonio Luna nips in to tidy up. Villa are having to do a lot of running, but are pressing impressively thus far.
17:38: Patient, meticulous build up from Liverpool which results in Glen Johnson cutting inside to let fly with an effort, but the tireless Gabby Agbonlahor never relented in his defensive duties, chasing the full back down and ensuring he didn't get his attempt on goal.
17:34: Liverpool have gotten of to a bright start with Iago Aspas nearly carving an opening for himself down the right flank with Daniel Sturridge eagerly awaiting in the middle, but Brad Guzan dives in the way to collect the ball.
Liverpool subs: Jones, Alberto, Cissokho, Allen, Borini, Sterling, Wisdom
Aston Villa subs: Steer, Clark, El Ahmadi, Helenius, Herd, Sylla, Tonev
17:15: In case you missed them earlier, here are the Aston Villa and Liverpool line ups with kick off 15 minutes away. Liverpool remain unchanged while Paul Lambert has brought Jores Okore and Leandro Bacuna into his XI.
Aston Villa: Guzan, Lowton, Vlaar, Okore, Luna, Bacuna, Westwood, Delph, Weimann, Benteke, Agbonlahor. Subs: Clark, El Ahmadi, Helenius, Steer, Herd, Sylla, Tonev.
Liverpool: Mignolet, Johnson, Toure, Agger, Jose Enrique, Gerrard, Lucas, Henderson, Aspas, Coutinho, Sturridge. Subs: Cissokho, Brad Jones, Alberto, Allen, Borini, Sterling, Wisdom.
17:00: And that's if for the afternoon games. Not many goals but Hull City will be the happiest having survived the majority of their game with just ten men to fend off Norwich. Palace were briefly on top of the world before they were quite literally brought crashing back down to earth by Robert Huth who played a pivotal role in Ryan Shawcross' winner. Southampton and Sunderland, Newcastle United and West Ham and Everton and West Brom all settled for draws.
Full time scores:
Everton 0-0 West Brom
Hull City 1-0 Norwich City (Brady, pen 22)
Newcastle 0-0 West Ham
Southampton 1-1 Sunderland (Fonte, 88) (Giaccherini 3)
Stoke City 2-1 Crystal Palace (Adam, 58, Shawcross, 62) (Chamakh, 31)
16:55: Play continues at Goodison Park and the KC Stadium. Time for any more drama?
Full time:
Newcastle United 0-0 West Ham
Southampton 1-1 Sunderland
16:53: Final whistles now being blown up and down the country.
16:51: Newcastle miss the chance to steal a win against West Ham when Shola Ameobi's ambitious effort came back off the far post. Would have been the day's most undeserved goal. Full time.
Line Ups
Aston Villa v Liverpool
Aston Villa: Guzan; Lowton, Vlaar, Okore, Luna; Bacuna, Westwood, Agbonlahor, Delph, Benteke, Weimann
Liverpool: Mignolet, Johnson, Toure, Agger, Jose Enrique, Gerrard, Lucas, Henderson, Aspas, Coutinho, Sturridge
16:46: Southampton equalise through a header from Jose Fonte who leapt above the Sunderland defenders to nod in a free kick at the near post.
Goal! Southampton 1-1 Sunderland (Jose Fonte, 87)
16:44: Southampton new boy Pablo Osvaldo arrived with a reputation, having once struck his Roma teammate Erik Lamela - who must surely now follow him to the Premier League - in the face for not passing to him. A couple of rough tackles in succession have earned him a yellow card not even a half into his Saints debut.
16:40: Trouble for West Brom as Ben Foster is forced to leave the game with a groin injury, having had a fantastic game for the Baggies. His replacement? 25-year-old Luke Daniels, who has spent his entire career with the club out of the lime light but will make his Premier League debut today.
1636: Palace nearly found themselves 3-1 down after Steven N'Zonzi's vicious effort from the edge of the penalty area struck the post. The away side are still stuggling to dust themselves off after Stoke's quick goals this half.
16:32: Substitution at St James' Park, Mohamed Diame departs to be replaced by Ravel Morrison. The former Manchester United bad boy enjoyed a brilliant pre-season campaign to work his way into Sam Allardyce's first team plans.
16:29: Tim Howard has to make an excellent save to deny James Morrison who made space for himself after neat build up play with Shane Long.
16:27: Away from the Premier League, Spanish newspaper AS report that Gareth Bale has landed in Spain. Please end this now.
16:22: Awful defending from Crystal Palace. A strange concept of a long throw reaches Robert Huth who knocks through Palace defenders like a rhino fired out of a tank. Shawcross picks through the carnage to tap the ball in and complete a drastic turnaround at the Britannia. Somewhere in the country, Tony Pulis is laughing maniacally, pausing to adjust his cap, before laughing again.
Goal! Stoke City 2-1 Crystal Palace, (Ryan Shawcross, 62)
16:18: New season, new manager, but same old Stoke. Peter Croach helped on a cross towards big Jon Walters who directs it towards Charlie Adam. The former Liverpool man capitalised on some poor defending by Palace who finished smartly at the back post.
Goal! Stoke City 1-1 Crystal Palace (Charlie Adam, 58)
16:11: It seems the half time break still hasn't woken Newcastle United up with West Ham picking up from where they left off; looking the more likely to score. Stewart Downing was the latest to attempt to open the scoring but his effort was comfortably saved by Tim Krul.
16:03: We are back underway with very few goals flying around this afternoon but one or two incidents worth talking about. A red card for Hull City's Sagbo to accompany Robbie Brady's opener are the highlights from the KC Stadium, while an early opener from Sunderland could have the ambitious Southampton worrying as the afternoon progresses. Marouane Chamakh has scored Crystal Palace's first goal of the season as Ian Holloway's side lead Stoke while we are still waiting for goals between Newcastle and West Ham in addition to Everton and West Brom.
16:02: Arsene Wenger was in a slighly better mood that last Saturday after his side eased to a 3-1 win over Fulham at Craven Cottage. A brace from Lukas Podolski and a third goal in three games for Olivier Giroud ensured Darren Bent's debut goal was nothing more than consolation.
"We were impressive and always in control. We deserved the win and it's a good win. We had a convincing win against Fenerbahce and that was a good response to the disappointing first result," the Arsenal boss told BBC Sport.
"We played the way we wanted to play, we were in control and the team enjoyed it. We created chances. The positive result (in Turkey) counter-balanced the fatigue. We were very dangerous every time we won the ball back. We had a good mixture of a patience game and a speed game - and that was positive."
Half time score lines:
Everton 0-0 West Brom

Hull City 1-0 Norwich City (Brady, pen 22)
Newcastle 0-0 West Ham
Southampton 0-1 Sunderland (Giaccherini 3)
Stoke City 0-1 Crystal Palace (Chamakh, 31)
15:45: Final whistles now beginning to blow across the country.
15:43: Amazing scenes at the Britannia as Chamakh is enjoying his football once again. Not quite show-boating, but playing with confidence and verve as the rain lashes down around him. May have been identified as one of the signs of a coming apocalypse once upon a time.
15:40: Not much to report from St James' Park as of yet, but West Ham are beginning to take control of the game. Winston Reid should have perhaps done better to get his head onto James Collins' cross, having muscled his way in to a goal scoring opportunity.
15:36: Crystal Palace nearly make it two as full back Dean Moxey drills a shot across the goal, only to see it go the wrong side of the post.
15:33: Chamakh gives Palace their first goal of the season and registers his first since September 2011. The former Arsenal man did fantstically well to out muscle Ryan Shawcross before side-stepping the lumbering Robert Huth before firing a great effort into the back of net. Julio Speroni was called to make an excellent save moments later.
Goal! Stoke City 0-1 Crystal Palace (Marouane Chamakh, 31)
15:30: It's all happening at the KC Stadium. Minutes after taking the lead the club's summer signing Yannick Sagbo has earned himself for a red card for violent conduct.
Red card - Yannick Sagbo (Hull City)
15:22: Robbie Brady places the ball in the bottom corner to give Hull City the lead over Norwich City. The Republic of Ireland international's first Premier League goal.
Goal! Hull City 1-0 Norwich (Robbie Brady, 22)
Penalty for Hull City!
15:15: Jason Puncheon is making his debut for Crystal Palace at Stoke this afternoon. The winger impressed under his previous spell with Ian Holloway at Blackpool and had his moments of magic for Southampton last season. With Wilfried Zaha now strutting his stuff at Old Trafford, the Eagles are in need of a capable presence in wide positions to strengthen their wafer thin attacking options; Puncheon's contribution could prove vital.
15:10: Everton taking an early advantage against West Brom with 18-year-old Ross Barkely impressing from the start in midfield. Steven Pienaar has already two chances to open the scoring, but was denied on both occasions by Ben Foster.
15:07: Southampton thought they had equalised when Jay Rodriguez fired across Keiren Westwood into the bottom corner, but the flag went up for offside.
15:05: Sunderland take a surpise lead at St Mary's as the miniscule Emmeulle Giaccherini, a summer arrival from Juventus, gets on the end of a Seb Larsson cross to give Paolo Di Canio's side an early lead.
Goal! Southampton 0-1 Sunderland (Emmuelle Giaccherini, 3)
Kick off - 15:00 games are all underway
14:52: Plenty of subplots at St James' Park this afternoon. Sam Allardyce returns to the club who sacked him after eight months as Kevin Nolan pays a visit to one of his former employers. Alan Pardew has chosen to leave Yohan Cabaye out his squad for a second time after Arsenal bid for the striker last Monday, hardly convenient for a wafer thin squad who could use the Frenchman's guile to crack a solid West Ham outfit. Stewart Downing is set to make his first start for the Hammers.
Line Ups
Southampton v Sunderland
Southampton: Boruc, Chambers, Fonte, Lovren, Shaw, Schneiderlin, Wanyama, Ward-Prowse, Rodriguez, Lallana, Lambert. Subs: Kelvin Davis, Clyne, Steven Davis, Ramirez, Osvaldo, Cork, Hooiveld.
Sunderland: Westwood, Celustka, O'Shea, Diakite, Colback, Johnson, Gardner, Larsson, Giaccherini, Sessegnon, Altidore. Subs: Cabral, Wickham, Vaughan, Moberg Karlsson, Mannone, Ji, Roberge.
Stoke City vs Crystal Palace
Stoke: Begovic; Cameron, Shawcross, Huth, Pieters; Nzonzi, Wilson, Adam; Walters, Etherington; Crouch.
Crystal Palace: Speroni; Ward, Delaney, Gabbidon, Moxey; Puncheon, Campana, Jedinak, Dikgacoi, Gayle; Chamakh.
Everton v West Brom
Everton: Howard, Coleman, Jagielka, Distin, Baines, Osman, Fellaini, Mirallas, Barkley, Pienaar, Jelavic. Subs: Robles, Heitinga, Kone, Deulofeu, Naismith, Stones, Anichebe.
West Brom: Foster, Billy Jones, McAuley, Olsson, Ridgewell, Morrison, Mulumbu, Yacob, Dorrans, Long, Rosenberg. Subs: Sinclair, Popov, Brunt, Lugano, Luke Daniels, Vydra, Berahino.
Hull City vs Norwich City - debuts for Tom Huddlestone, Jake Livermore and Leroy Fer
Hull: McGregor, Elmohamady, Chester, Davies, Figueroa, Koren, Huddlestone, Livermore, Brady, Aluko, Sagbo. Subs: Rosenior, Bruce, Meyler, Graham, McShane, Boyd, Harper.
Norwich: Ruddy, Whittaker, Turner, Martin, Garrido, Howson, Tettey, Fer, Johnson, Redmond, van Wolfswinkel. Subs: Elmander, Snodgrass, Bunn, Hoolahan, Becchio, Olsson, Ryan Bennett.
14:40: Not a terrible display from Martin Jol's side, but a midfield lacking pace struggled to contain an Arsenal side playing with renewed verve. Those jerking knees from last weekend should now be suitably stable.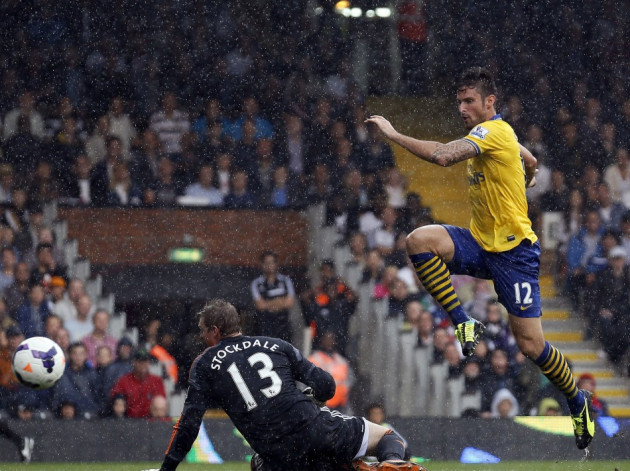 Full time: Fulham 1-3 Arsenal (Bent, 76) (Giroud, 14, Podolski 41, 66)
14:36: Cazorla and Walcott nearly fashion a fourth. The Spaniard once again streams forward before playing a ball wide right to Walcott who fires his shot straight as Stockdale. Perhaps should have done better.
14:33: Fulham still tentatively pushing for another but Arsenal don't appear to be too threatened. Effectively taking the sting out of the game with Wilshere allowing no man in a white shirt a centre meter of space.
14:30: Shouts for a penalty from the Fulham contingent as the ball appears to strike an Arsenal defender's arm, but Steve Sidwell was sat in an offside position at the moment of impact. No joy.
14:22: Football Manager addicts across the country rub their hands in anticipation as Yaya Sanogo is introduced with ten minutes remaining on for Podolski. Prior to that, Wilshere picked up a yellow card, joining Kasami in the book after he was penalised for a silly lunge on Mertesacker.
14:20: Bent marks his debut with what you might describe as your typical Bent goal. Having been found by Riether who had found space down the right, Berbatov pulled off a bewlidering turn to step away from his man before striking an effort on goal. Szczesny palmed the effort away, but Bent was on hand to tap in from two yards out. Unstoppable.
Goal! Fulham 1-3 Arsenal (Darren Bent, 76)
14:19: I suppose you could say it's Arsenal related, Yohan Cabaye has been left out of the Newcastle United squad against West Ham.
14:14: Jack Wilshere is introduced for Thomas Rosicky, and Olivier Giroud's game also comes to an end having just played a pivotal role in Arsenal's third, where his marvellous first touch allowed to him to take the ball on before playing Cazorla in, who eventually teed up Podolski. Nacho Monreal replaces the Frenchman.
14:11: Podolski adds his second of the game as Arsenal catch Fulham on the counter attack. Having been played in on the left hand side Cazorla skipped past his man brilliantly before cutting the ball back to the Germany international on the left hand edge of the box. The forward took one touch before hitting a sublime effort low into the right hand corner of the net.
Goal! Fulham 0-3 Arsenal (Lukas Podolski, 66)
14:08: Berbatov hilariously blocks Kasami's seemingly goal bound effort to give Arsenal a goal kick.
14:04: Darren Bent is introduced for Damien Duff for the former Tottenham and Sunderland man's debut. Maybe somewhat surprisingly, Taarabt's number soon folows as he is replaced by Kacaniklic with half an hour to go. Very good perfomrance from the former QPR man, who could flourish under Jol providing he keeps his head screwed on.
14:00: A beautiful flowing move from Arsenal nearly provides a third. Cazorla impishly brings the ball out from his own half to launch the move and eventually sprays it out to Gibbs who swings in a tempting cross for Walcott, who understandably can't beat Hangeland in the air. The ball drops to Ramsey who strikes towards goal with the ball deflecting off Hughes, missing the post, but not by much. Meek shouts for hand ball swiftly ignored.
13:54: Brede Hangeland lets his teammates down by not being 15 foot tall as he fails to get on the end of a Taarabt free kick. Fulham pressing well in the second half.
13:51: Taarabt draws another good save from Szczesny minutes after kick off. Berbatov patiently holds the ball up on the right before playing the ball across to the Moroccan who expertly turns and fires low towards the right. The previously biblical downpour subsided towards the end of the first half but appears to have picked up again. Expect a more long range efforts this afternoon.
13:48: Back underway at Craven Cottage.
13:41: Here's a few mundane stats to ponder while waiting for the second half to kick off.
Possession: Fulham (48%) Arsenal (52%)
Shots: Fulham (9) Arsenal (11)
On target: Fulham (4) Arsenal (4)
Corners: (Fulham (0) Arsenal (5)
Fouls: Fulham (4) Arsenal (5)
Bookings: Aaron Ramsey (Arsenal)
13:36: Arsenal take a comfortable lead into half time with a distint lack of 'SPEND SPEND SPEND' signs dotted around the Gunners' end this afternoon.
Half time: Fulham 0-2 Arsenal (Giroud, 14, Podolski, 41)
13:28: Fulham look slightly shell shocked as Podolski is presented with the opprotunity to double his tally after cutting in from the left, but sends a searching ball across the box seemingly for one of his teammates to tap in. Too nice, that lad. That, or it was a horrible effort on goal.
13:26: Podolski smashes Arsenal's second into the back of the net. Cazorla finds Walcott down the inside right once again but Stockdale palms away his stinging effort. Nothing could be done about the follow up effort however as Podolski meets it on the edge of the penalty area and fires into the roof of the net. Crisis what crisis? etc etc
Goal! Fulham 0-2 Arsenal (Lukas Podolski, 41)
13:22: Cliche time: end to end stuff at Craven Cottage. Riise once again finds plenty of space down the left hand side of the pitch but can't find the right ball for Berbatov. Frantic Arsenal defenders gets the ball clear and Theo Walcott ominiously bore down on the Fulham goal. Playing the ball across to the left the ball eventually fell to Gibbs who can't replicate his midweek goal as he screws his effort horribly wide. Not a single effort on target during that melee.
13:20: Another effort from distance by Fulham, who seem to fancy their chances of a Szczesny slip up in these conditions. Taarabt this time who shoots from the edge of the area on the left, but is again comfortably collected by the Arrsenal goal keeper.
13:15: Parker, Sidwell, Berbatov and Taarabt combining nicely in the Arsenal half with neat passing triangles conducted by the Morrocan who found Berbatov with a cute through ball which was sent over the bar.
13:13: Riise fires the free kick which deflects though the Arsenal wall, Szczesny scampers across the goal to collect. Terrible wall from Arsenal which had more holes in it than a Connect Four board.
13:11: Cazorla clusmily takes down Tarrabt on the egde of the Arsenal penalty area. Free kick
13:07: Lots of potential for comedy slips and spills in west London today but both keepers seem to be coping just fine for the time being. An effort from Cazorla is struck straight at Stockdale, although the keeper needs two attempts to get the ball who manages to get hold of it in these greasy conditions.
13:04: Szczesny maintains Arsenal's lead with an impressive double save. Stopping an effort from Riise's the Pole was up quickly to block Damien Duff's follow up effort. Rain really falling now.
13:00: Giroud scores his third in three games as he dinks the ball over Stockdale after the ball somewhat fourtunately rebounded into his path from a Ramsey pass. The flag was kept down and the Frenchman coolly converted.
GOAL! Fulham 0-1 Arsenal (Olivier Giroud, 14)
12:55: David Stockdale keeps it level after the game's first effort on target. A beautiful lofted through ball from Rosicky found Walcott down the inside right. The England forward got his effort on target, but couldn't get past the Fulham shot stopper.
12:52: John Arne Riise hits one of his notorious pile drivers that haven't really yielded a goal in years after a foul from Carl Jenkinson on Adel Taarabt. Swerves wide of the goal.
12:51: Quick start from both teams, no doubt helped by the slick surface at the Cottage, Early touches for both Parker and Taarabt. Podolski fires off the first effort of tha afternoon after being found by Ramsey, his effort is deflected out for a corner and eventuallly scrambled away by tre home side.
12:43: Absolutely lashing it down at Craven Cottage as the teams come out from the tunnel. Some fans around the stadium sporting fake moustaches in honour of their new owner Shahid Khan.
12:39: As expected, Bacary Sagna starts alongside Per Mertesacker at centre half. The French coped just fine albeit against an abysmal Fenerbahce during the week, but the right back filled the position in far more pressurised circumstances last season when he was forced to fill in away to Sunderland, where the Gunners went home with a 1-0 win.
12:25: 16-year-old Gedion Zelalem has been named on the Arsenal bench this afternoon. The teenager has a cosmopolitan background even by the Gunners' standards: born in Ethiopia, he is of German descent but spent most of his formative years in America before joining the Arsenal ranks in January. Zelalem impressed during the Emirates Trophy during the summer and has already drawn comparisons between himself and another little known academy graduate who goes by the name of Cesc Fabregas. Don't expect to see him came an appearance today however - barring another injury catastrophe. Which won't happen. Definitely not.
On the bench:
Fulham subs: Etheridge, Briggs, Boateng, Karagounis, Kacaniklic, Ruiz, Bent
Arsenal subs: Fabianski, Monreal, Frimpong, Zelalem, Wilshere, Gnabry, Sanogo
Confirmed line ups:
Fulham: Stockdale, Riether, Hughes, Hangeland, Riise, Duff, Parker, Sidwell, Taarabt, Kasami, Berbatov.
Arsenal: Szczesny, Jenkinson, Sagna, Mertesacker, Gibbs, Rosicky, Ramsey, Walcott, Cazorla, Podolski, Giroud
12:12: First bit of team news in, Martin Jol is set to hand Scott Parker his debut for Fulham this afternoon after he completed his move from Tottenham Hotspur last week. Darren Bent is still awating his first start for the club while David Stockdale replaces the injured Maarten Stekelenburg in goal.
12:05: A week back in and we are wondering how we ever managed without you. Let's never fight again, Premier League. Arsenal have the chance to rid the memories of their disastrous start to the new season last week with their visit to Fulham in our first kick off the afternoon in about 45 minutes time. The Gunners virtually assured their presence in the Champions League against Fenerbahce but discontent is still rumbling at the Emirates after that defeat to Aston Villa. No new arrivals at the club yet, but will a win over Martin Jol's side today restore a bit more optimism, albeit for a couple of days?