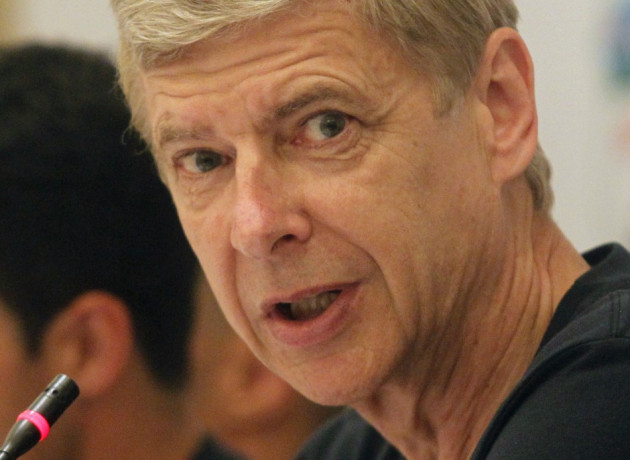 Arsene Wenger is still hoping to complete a deal for Liverpool striker Luis Suarez and is confident there will be some transfer activity before the window closes at the end of this month.
Arsenal have had two bids for the Uruguayan striker rejected by Liverpool as Wenger continues to try and strengthen his squad before the start of the new season in just over two weeks time.
Having missed out on Gonzalo Higuain, who decided to join Napoli earlier this summer, Wenger has been determined to complete a deal for Suarez and admits that talks are continuing.
"I don't want t speak about Suarez as that is between Liverpool and Arsenal. We want to respect what Liverpool want to do. If it is feasible we want to do it (sign the player) in an amicable way," Wenger confirmed at a press conference ahead of the Emirates Cup.
"I am a great believer in keeping confidentiality which is difficult in the modern world. We work very hard, not only on this case, but on many other different cases."
When further quizzed on whether there would be new arrivals before the end of the transfer window, Wenger explained: "I am confident, but you look at many teams around us and nothing has happened until now.
"For me, I'm in a new situation because at least I haven't lost players. In recent seasons I have always faced the fact that we have lost very important players. At least we have some stability. We do want to bring something more, but it hasn't worked as quickly as I wished."
The Gunners have witnessed north London rivals Tottenham Hotspur twice break their transfer record to secure the signatures of striker Roberto Soldado and Brazilian midfielder Pualinho, while winger Nacer Chadli has also arrived at White Hart Lane.
Arsenal have so far only completed a deal for 20 year old striker Yaya Sanogo but Wenger believes it is difficult to identify players who are better than his current crop.
"If you can give me names of players who are better than we have then I will talk about it," added Wenger.
"When you look at (Carl) Jenkinson, (Kieran) Gibbs, (Jack) Wilshere, (Aaron) Ramsey, (Alex-Oxlade) Chamberlain, (Theo) Walcott, they have all come through the ranks and have experience in the Premier League.
"They will be better and football is not only about bringing players from outside, it is about development. We have a special bond with players and that is also important."
Arsenal are in action against Napoli on Saturday in the Emirates Cup but Wenger will be without club captain Thomas Vermalen who has been ruled out for several weeks, while Nacho Monreal is only just returning to training.
"Vermaelen is out for six more weeks, Monreal will start training on Monday," Wenger confirmed.