Arsenal manager Arsene Wenger has admitted delight at Premier League champions Manchester City failing to qualify for the Champions League's knock-out stages for the second season in a row. The Frenchman, meanwhile, led the Gunners to the next stage of Europe's elite tournament for the 13th season in a row, with a 2-0 home win over French champions Montpellier.
"It's a massive satisfaction because at times I have had my back to the wall being accused of not spending fortunes. We showed that we can do it the way we do it and with the club in a financially good situation, and with players coming from our youth development. There's many ways to be successful and ours is one of them," the 63 year old Wenger said.
The Gunners will travel to Greece to play Olympiakos in their final game and will look to win that game and confirm top spot in Group B, providing German club Schalke 04 do no better than a draw in their game against Montpellier. That way, Wenger will hope to avoid teams like Barcelona, last year's finalists Bayern Munich and Premier League rivals Manchester United.
However, a second place finish has its charms too. Should the Gunners finish second in their group, as things stand they will avoid Real Madrid, Juventus, Valencia and a long trip to Turkey to play Galatasaray.
Zabaleta Admits Worry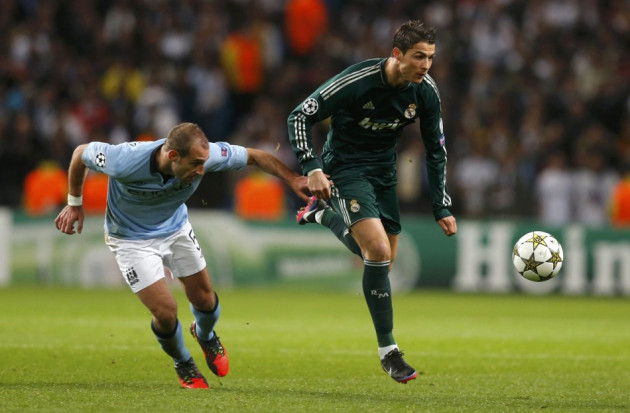 Meanwhile, City defender Pablo Zabaleta admitted he was puzzled by his club's exit from the group stages. The Citizens have yet to win a game in Europe this season and have lost both away games - to Dutch champions Ajax and Spanish giants Real Madrid. Roberto Mancini will travel to Germany for the final group game, against Bundesliga winners Borussia Dortmund, aware that only a win for his side and three points for Jose Mourinho's Madrid against Ajax will allow them to escape into the Europa League.
"We are obviously disappointed about the result as it was our last chance to get close enough to Real Madrid and Borussia Dortmund. Now, the chance has gone and it's hard to understand. It's the second year in a row that this has happened. It's hard to see when you see the players that we have," the Argentine utility player said.