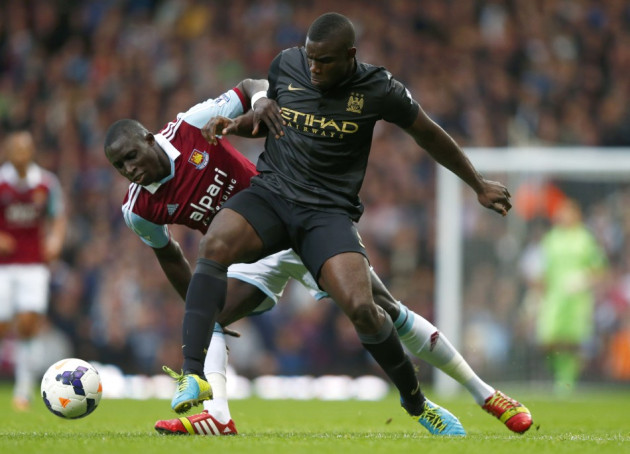 Micah Richards has declared his intention to remain at Manchester City but has admitted he may need consider his options as rumours persists that Arsenal will make an offer for the defender in January.
The Daily Mirror reported yesterday that Richards was being lined up by Arsenal boss Arsene Wenger as a potential replacement for Bacary Sagna.
The 30-year-old's contract expires next summer and he is yet to commit to a new deal amid reports that there will be an offer arriving from French giants Paris Saint-Germain.
While Richards may be firmly out of favour at Manchester City he has proven his ability in previous seasons and is reportedly seen by Wenger as a ready-made replacement as Carl Jenkinson is still adjusting to playing at the very top level.
Richards has struggled with numerous injuries in recent seasons which have limited his appearances but he is now firmly regarded as back-up for first choice right-back Pablo Zabaletta.
The Argentine has been a consistent performer for City once again this season, subsequently keeping Richards out of the side and leading the England defender to admit he would ideally like to remain at the Etihad but making it clear he would soon have to consider his options.
"I'd sign tomorrow but I've been here 11 years. I'm getting to that age where I'm not 18 anymore," Richards told The Sun. "I'm 25 and you really want to be playing every week. If I can do that here, it would be perfect.
"I don't really ever want to leave City, but there might come a time when I have to assess it and see where I am."
Richards' versatility has not helped him gain opportunities at City with new boss Manuel Pellegrini refusing to play him at centre-back despite Vincent Kompany's injury struggles and Joleon Lescott being severely out of favour.
Should Arsenal make their interest known then Richards will have a tough decision to make as he may receive more game time in north London, but he would be leaving a club that remain close to his heart after joining the academy all the way back in 2001.