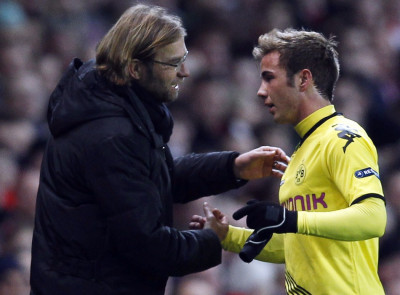 Despite the recent affirmation that the youngster dubbed 'the German Messi' is not for sale, Arsenal and Manchester United will inevitably continue their tentative courtships of Borussia Dortmund sensation Mario Götze.
The Bundesliga starlet looks the ideal candidate to alleviate any perceived weaknesses in the respective midfields of Manchester United or Arsenal.
Borussia Dortmund have insisted they are not worried about losing their teenage sensation because quite simply they have no intention of selling the player to either of the Premier League's longest serving managers regardless of Arsenal or Manchester United's lucrative advances.
Arsene Wenger recently acknowledged his admiration for the diminutive playmaker following the 19-year-old's appearance at the Emirates in the Champions League. While Sir Alex Ferguson is yet to publicly comment on one of his reputed targets, Manchester United will inevitably look to rival Arsenal should Dortmund revise their thus far strong stance.
The sales of Cesc Fabregas and Samir Nasri at Arsenal and the retirement of Manchester United legend Paul Scholes has left a Mario Gotze shaped hole in their midfields, but can either of their wily managers engineer the German's move to the Premier League?