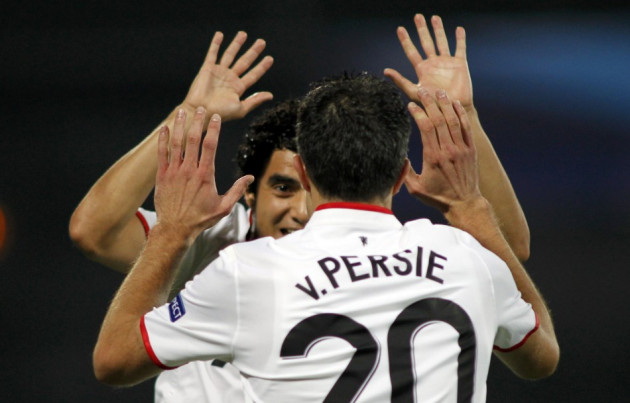 Arsene Wenger believes the sale of Dutch striker Robin van Persie was a good thing for the Gunners. The 63-year-old manager says he felt the absence of van Persie has forced the rest of his team to work harder to compensate for the star striker's absence, pointing to the sharing of goals scored so far this season among new signings Lukas Podolski, Santi Cazorla and Ivory Coast forward Gervinho.
"Yes [sharing the goals is a good thing] because when van Persie was injured it's not only that you can't score goals anymore, it's the psychological consequences on the morale of the team," he explained.
The signing of Podolski and French striker Olivier Giroud, was meant to cover for van Persie, who after much public debate, transferred to rivals Manchester United. Unfortunately, while Podolski, a German international, has settled into life in north London and begun scoring goals regularly, 25-year-old Giroud is still settling into his new club. However, the pressure on him to score goals has been eased by Gervinho.
"Players ask you, 'does van Persie play on Saturday or not' when he has two or three days out. We have bought Podolski and Giroud. We hope always that Walcott can improve his number of goals. Gervinho as well. Cazorla will get a few. He gets in good positions and does not always finish. But he looks like he can score goals," Wenger added.
Ferguson Sets van Persie Target
Meanwhile, over at Old Trafford, Manchester United's new signing van Persie has picked up where he left off for Arsenal, with seven goals in eight appearances for the Red Devils. His purple patch has prompted manager Sir Alex Ferguson to push the player past his 37 goal mark (van Persie's best ever return) for this season. And given the quality of service the Dutchman is receiving from Shinji Kagawa, Wayne Rooney and Paul Scholes, it is a safe bet to assume he has several more goals to come.
"I think that, in my experience, where we are at the moment you need two strikers who are going to get you over 20 goals a season. If you get that, you definitely have a really good chance," the long-serving Scot said, after watching van Persie score twice to give the Red Devils a 2-1 away win over Romanian club Cluj on Matchday Two of the UEFA Champions League.