Arsene Wenger has revealed that new boy Mesut Ozil is pleased with his first game in the Premier League but has much more to offer when he is fully fit and gets to know his teammates more. The 24-year-old German made his first assist in the league in only 10 minutes following his transition to the Premier League with a brilliant touch down from a lofted pass from Kieran Gibbs and delivering the ball to Olivier Giroud, who finished with aplomb.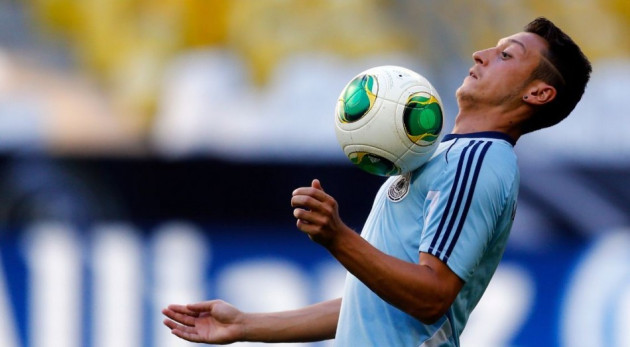 "He looked very comfortable. He is a great player and there is a lot more to come from him. He told me after the game he enjoyed it but he had a good idea of what to expect. We have a game that's based a lot on movement and he gives everyone time to be available on the ball," Wenger told www.arsenal.com.
"It's a kind of technical security and a creative side to his game that is very interesting. His final pass and his retention of the ball gives everybody time to move," he added.
The manager revealed that the former Real Madrid man was sick before the game but overcame his discomfort to last 80 minutes, something which he applauded. The Frenchman believes that his arrival will give the Gunners a much needed boost and lead them to their first trophy in over eight years.
"He was like a guy who was invited to play for us because he was sick. But for a guy who was invited he did well. There was a demand from everybody to have a player for reasons that we didn't challenge for the title because we lost big players without being capable of bringing the same stature of players in. So that was a huge lift for everybody who loves our Club," Wenger said.
Man of the Match Aaron Ramey was equally enthusiastic about Ozil's arrival and believes that the best is yet to come. The midfielder scored two goals, with the last one involving a triangle between him, Ozil and Giroud, thus putting the game to bed.
"I think he showed what he's all about today slipping those little balls through. He's a fantastic player and is very gifted. He's going to create a lot of opportunities for us. He has a wonder of a left foot. He caresses the ball and the passes seem to be of a perfect weight and right into people's strides," Ramsey explained.