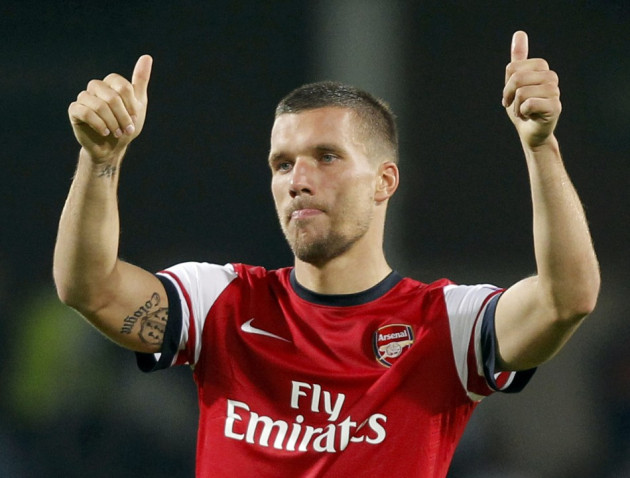 German football legend Berti Vogts, who played as a defender for Borussia Mönchengladbach and coached the German national team from 1990 to 1998, has recalled his earlier criticisms of Arsenal's new German striker, Lukas Podolski.
The 65-year-old, whose Germany team won the 1996 European Championships and made it to the final in 1992, as well as the quarter-finals of the World Cup in 1994 and 1998, is currently the manager of the Azerbaijan national team. He once described Podolski as an "extraordinary" player with an attitude problem and a lack of professionalism. Vogts based his criticism on the striker's second spell with former club Cologne, for whom he played a total of 180 games and scored 86 times. So far, Podolski has three goals to his name, from seven appearances in Arsenal's colours.
"It is always the defence that gets criticised," Vogts said on Germany's semi-final defeat at the 2012 European Championships, at the hands of Italy. "But the defence starts with Podolski. When he loses the ball he must start running back once in a while."
"I am happy that Podolski has left Cologne," Vogts has been quoted as saying, "He had too many friends in the city. He got praised as a great runner if he ever got back to defend three times in a game. He got an easy ride and he believed his own publicity.
"But now he has a coach at Arsenal in Arsene Wenger who will make him work hard in training as well as matches. If Podolski fails to train properly twice or three times he won't get games. That is the way to develop him into a true professional," Vogts said.
However, Wenger appears to have no problems with his new player's attitude. The long-serving Gunners' manager has spoken about the difficulties some players may face when transferring to high-profile clubs, but insisted the 27-year-old German international was mentally in perfect condition for life at the Emirates.
"I think sometimes when a player goes to a big club early, there are other players there that they cannot take their place from. Maybe he was not ready and completely mature, I don't know [referring to Podolski's disappointing time with Bayern Munich]. Now he is ready. He is 27, between that period [at Bayern] and now he has 50 or 60 more caps for Germany and a World Cup and a European Championship behind him," the Frenchman stressed on the club's website.