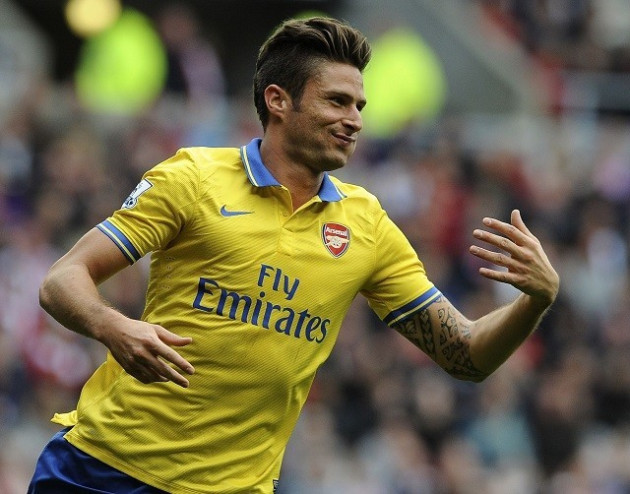 Arsenal striker Olivier Giroud has revealed that his self-belief coupled with his technical ability on the ball is the main reason behind his success this season.
The former Montpellier striker has four assists in the Premier League this season, joint top with his Arsenal teammate Aaron Ramsey. The Frenchman is reinvigorated after making a lukewarm start to this career last season where he scored 17 goals in all competitions. Giroud's form has been a major turning point for the Gunners who are currently top of the league and the 27-year-old is confident that he can take Arsenal all the way to a title challenge.
Arsene Wenger had insisted that he has grown technically as a player which has helped him increase his goals tally as well as assists but Giroud believes that he has had those qualities from the outset. However, he cites that he is now more confident in the Premier League, which has played an important role in his improvement.
"I think technically I had it before, maybe I progressed because we have worked on it a lot in training. It is also [down to] confidence. I did well from the start of the season, I had good preparation with the team - instead of last season when I wasn't here from the beginning - and I scored early in the pre-season games. I feel really confident, the boss made me feel good and that is why I feel good and try to improve every day. It is all about confidence I think," Giroud told www.arsenal.com.
Giroud combined with Jack Wilshere against Norwich to score a goal of the season contender when intricate touches from the duo left the Englishman in space who finished with aplomb. The striker insists that he is mightily pleased with the goal and believes that there are more such instances to come with the likes of Mesut Ozil, Santi Cazorla and Tomas Rosicky behind him to provide the attacking impetus.
"Strikers are judged on their goals but we must also [provide] assists and that is what I try to do: help my team-mates. It is easy to play with people like Jack, Mesut, Santi or Tomas - all my offensive team-mates. We have good relationships on the pitch and when we play one-touch football like [against Norwich], it is a pleasure," Giroud said.
"It is a great thing because the goal was shown all over the world - I am proud of it. It is a quality when you are a striker to not always be greedy and when you have a team-mate well placed on the pitch, in a good position, you have to assist him.We try to do it in every game, and when we succeed it is fantastic."