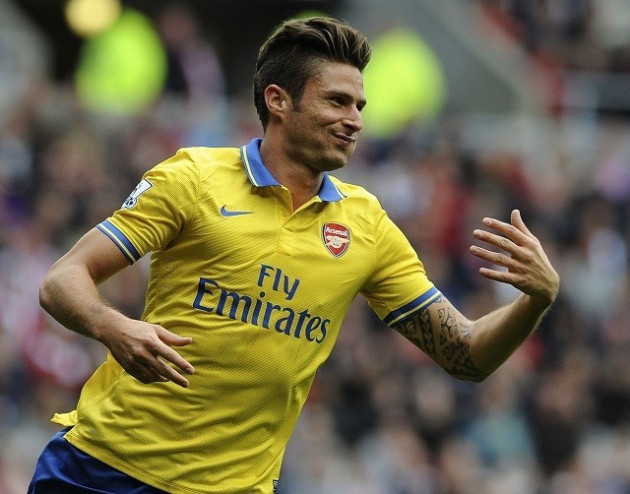 Arsenal striker Olivier Giroud believes that confidence in himself and intervention from Arsene Wenger regarding his technical qualities is the reason behind his turnaround this season.
The Gunners are currently top of the Premier League table and have a game against Borussia Dortmund on Wednesday in the Champions League which may prove pivotal in their quest to qualify for the knockout stages. The Frenchman scored the solitary goal for Arsenal in their 2-1 loss to the Germans in the reverse fixture and is currently the second top scorer in the league for the Gunners, behind Aaron Ramsey.
However, it was not always rosy for the Frenchman, who had been subjected to immense criticism since he was a boy and many people were sceptical about his ability to make it to the elite group. The 27-year-old was castigated for his profligacy in front of goal last season but his finishing and hold up play has improved by leaps and bounds which has made him an indispensable part of the Arsenal setup.
"I am OK with my body - physically I feel well. The difference with last season is [my] confidence and maybe the boss has helped me with my technique. We have worked on it at the training ground. It is about concentration and focus. The difference is I could [also] add is a good pre-season. I felt good since the beginning. I scored lots of goal and that was good for my confidence. I have helped the team to win, touch wood," Giroud told www.arsenal.com.
Giroud is currently the only striker capable enough to lead the attack for the Gunners as the likes of Nicklas Bendtner and Park Chu-Young on the bench do not inspire confidence. The Frenchman insists that his confidence issues are a thing of the past and is now willing to step it up to the next level.
"It was a long time ago - I was really young, [around] 19. I was maybe not mature enough," Giroud said. I grew up step by step and proved that I could score a lots of goals and did well. I improved myself and had the trust and confidence to continue," Giroud explained.
"I succeeded in Ligue 1 and won the championship. Everything I did on the pitch is my answer for people who wanted to maybe blame me. I tried to do my job on the pitch and score goals. Never mind the people who did not believe in my qualities and my game. I don't care about it now," he concluded.