Wenger Claims Arsenal Are Genuine Title Contenders After Ozil Signing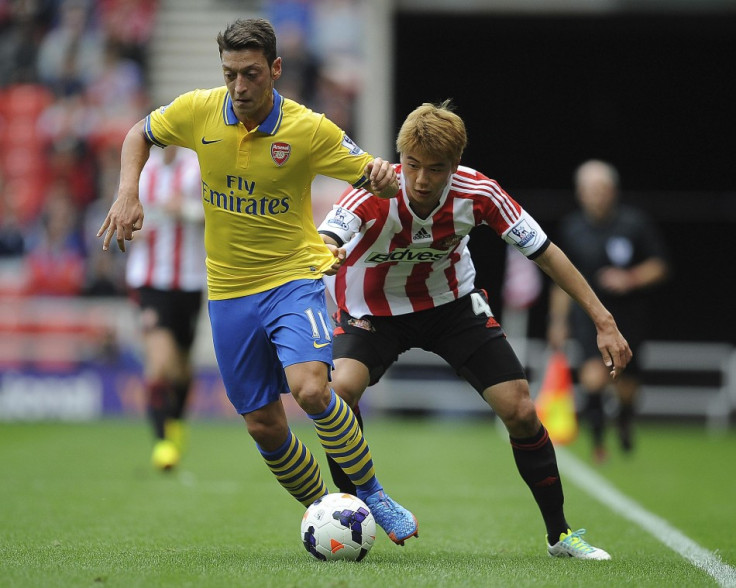 Arsene Wenger believes the signing of Mesut Ozil in the summer transfer window has improved Arsenal's chance of winning the Premier League title this season.
The German international has been impressive in the Gunners' attacking division in three matches played in all competitions. Ozil made an assist on his debut against Sunderland and added two more assists to his tally during Arsenal's 3-1 home win against Stoke City.
The goals against Stoke came from three set pieces and Ozil was involved in all three occasions. Wenger believes the arrival of the former Madrid midfielder has lifted everyone at the club.
The result against Stoke has seen Arsenal regain the top spot with 12 points from five games. The Gunners are level on points with Tottenham and their superior goal difference separates them Andre Villas-Boas' side.
"He gave a lift to everyone at the club. He will be the point of our team work, team play. He will get better when he fully integrates into the pace of the game. It is not just him, the whole team. We look solid. My job here is to make everyone happy, hopefully they are happy at the moment," Wenger explained.
"When you play against Stoke you don't expect to score from three set-pieces, it shows how important [Ozil's] delivery is. He's a player, when you look at his numbers, the assists are not a coincidence, they are a reality of his game. He is a great player."
"We are in position (at the top) where we can focus on improvement in a stable environment. Mathematically everyone is together in the table," he added.
Arsenal lost the season opener 3-1 to Aston Villa at home. However, the Gunners have bounced back from the defeat and Wenger is delighted with his side's recent form, which includes a victory over Marseille in the Champions League.
"Football is football, good players make good passes, bad players make bad passes. Same in England. He has good pace as well, he plays a lot focusing on passing but he can create," the Frenchman said.
"But it pleases me that we showed another aspect, we can dig deep and fight when we are under pressure. The third goal kept the result. It's been a positive, good week for us. We won in Marseille, won against Sunderland and won today," Wenger concluded.
© Copyright IBTimes 2023. All rights reserved.