Hector Bellerin will be assessed before Arsenal can decide whether the Spaniard is free to return against Hull City after suffering a concussion.
Bellerin, 21, was almost knocked out completely following an aerial challenge with Chelsea's Marcos Alonso in the Blues' 3-1 win at Stamford Bridge on Saturday (4 February).
As Alonso rose to meet Diego Costa's effort, which rebounded off the bar, he collided into the Gunners' full-back, sending him crashing to the ground and in need of urgent medical attention.
While Bellerin did not lose consciousness, he was visibly dazed after the incident, which Arsene Wenger condemned in his post-match press conference, insisting the challenge that forced his full-back off the pitch just 17 minutes into the contest was a clear foul.
Arsenal have now released a statement confirming their player will be monitored in accordance with FA guidelines regarding concussions over the coming days, and have not ruled out the former Barcelona youngster returning on Saturday for the visit of Marco Silva's side.
The statement read: "Our Spanish right-back is now in the final stages of the FA return to play protocol for concussion. He has had daily assessments and successfully completed each step of the graded progression so far.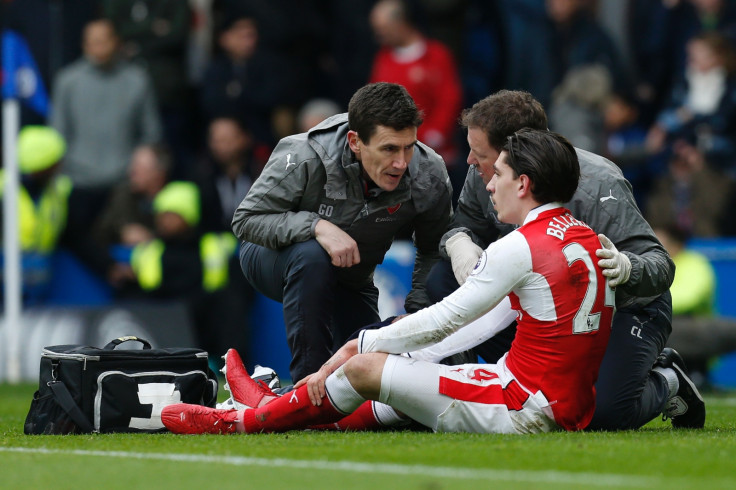 "Hector will be further assessed on Thursday and Friday, prior to a final decision being made regarding his availability for full training and Saturday's home match against Hull City."
Bellerin was replaced by Gabriel on Saturday afternoon with Wenger later revealing his player didn't not even know Alonso had scored in the immediate aftermath of the incident.
"Was he completely knocked out? He didn't know the result of the game. At the time he didn't see the goal," Wenger said. "The decision was very quick but you have to respect that. It's the head and I think one of the [conclusions] from the game today is that referees are much more severe with tackles on the ground and let much more go with elbows in the face. It's not only today but in many, many games I see that. It's more dangerous to hit the head than the legs."