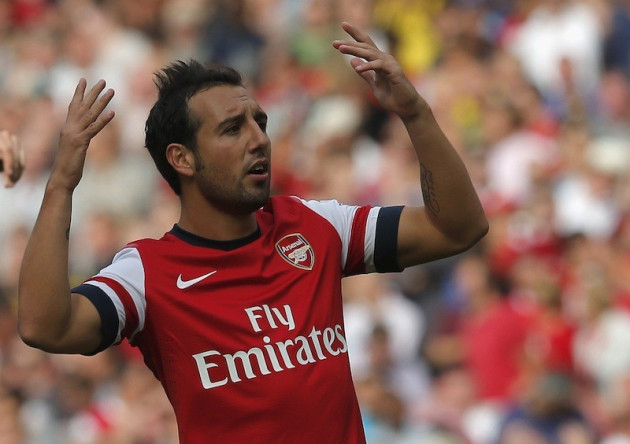 Arsenal playmaker Santi Cazorla says that Spanish players such as himself are leaving La Liga because of the monopoly that Barcelona and Real Madrid have over the league.
Cazorla left Malaga for Arsenal in the summer of 2012 and has turned out to be a bright star for the north London club as they look to end their trophyless run.
The 28 year old has since watched a host of players also making the move from his native Spain to England and admits that with the situation that currently exists in La Liga - Barcelona won the 2012-13 title by 15 points and were 24 points ahead of third-placed Atletico Madrid - more players want to go to England and participate in a more evenly spread league.
"Many players want to try their luck outside of Spain because it gets montonous with just Barca and Real Madrid," he said, according to Inside Spanish Football. "Outside of Spain there are more opportunities to win titles, in Spain, with the duopoly, there isn't. In addition, there are economic problems the country is facing.
"I don't think La Liga has taken a step back, but it's also true that great players like Negredo, Soldado, Navas, who are very important players in the league, have all left to the English Premier League and I think in that regard La Liga has lowered it's quality."
La Liga is often criticised for the amount of power that clubs such as Madrid and Barcelona hold - while in England TV rights are split evenly between Premier League clubs, in Spain they are divided according to television figures which are heavily skewed towards the best teams.
Since 2000 only three teams have laid claim to the title and after Valencia won their sixth La Liga trophy in 2004 the competition has well and truly been between Barcelona and Madrid.
While Cazorla has yet to win a trophy with Arsenal the north London club are currently flying high, topping the Premier League table and having won their last four league matches.
And his chances of winning silverware with the Gunners are certainly higher than with Malaga, despite the the Andalusian club having finished sixth last season and reaching the Champions League quarter finals.