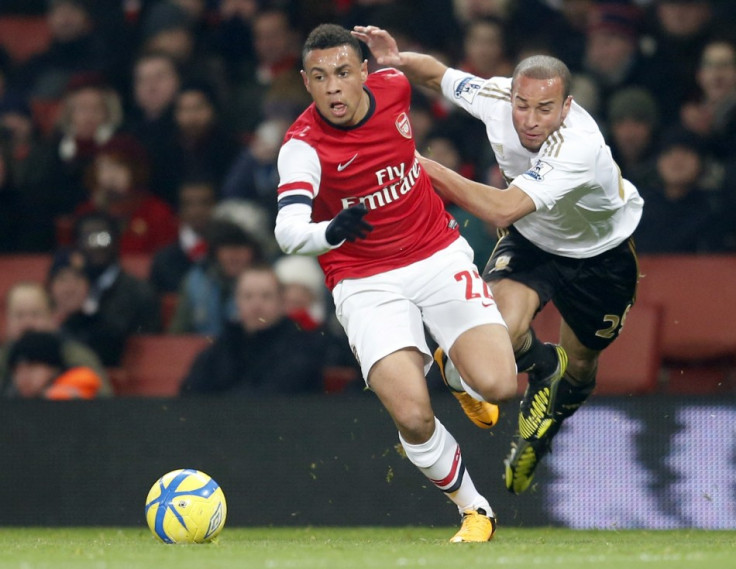 Alex Oxlade-Chamberlain believes Arsenal midfielder Francis Coquelin will have a bright future at the north London club after Arsenal manager Arsene Wenger admitted talks over a new deal for the midfielder are "99%" complete.
With the Frenchman's contract set to expire this summer, the 23-year-old star's future with the Gunners looked all but uncertain earlier this season after Wenger loaned him to Championship side Charlton Athletic, even though Mikel Arteta was injured and there was a lack of options for the holding midfielder role.
But the manager was forced to recall him last month following Arteta's latest injury and Coquelin has since become a crucial part of the squad.
Wenger has rewarded Coquelin with a new contract, something he confirmed when speaking to the press in the pre-match press conference on 30 January.
Oxlade-Chamberlain has also lavished praise on his teammate, claiming he was one of the "keys" in the victory at the Etihad Stadium.
"Since he's come back, he's taken his opportunities, he's taken his chances to show how good he is and now I see him as a big part of our team. He is a really influential and key part to our success, especially at Manchester City," Oxlade-Chamberlain said to Arsenal's official website.
"In recent weeks, we've seen it but the Manchester City game really showed how important he is and how good he is. Hopefully that will continue for him because it's good for us as well."
The midfielder has also hailed the Frenchman for how he managed to overcome his lack of opportunities at the Emirates Stadium to become a crucial member of the squad.
"He's been really patient and I'm sure there's been tough times for him since he's been at the club," Oxlade-Chamberlain told the official matchday programme. "I know everyone here has always known what a talent he's been, it's just been a case of the numbers and the type of personnel that we've had. It can be hard.
"As a young lad, sometimes you do feel the wrong end of that and those are the times when some people need to go out on loan to find their way. He's been abroad and in the Championship but he's never lost his quality and sometimes it's all about luck and opportunities."