Arsenal striker Olivier Giroud wishes to take the Premier League by storm this season and believes that he has a chance to become the league's top scorer, eclipsing the likes of Robin van Persie and Luis Suarez. The striker has already scored in each of his Premier League games this season, taking his tally to goals to four and is currently leading the charts in the Premier League.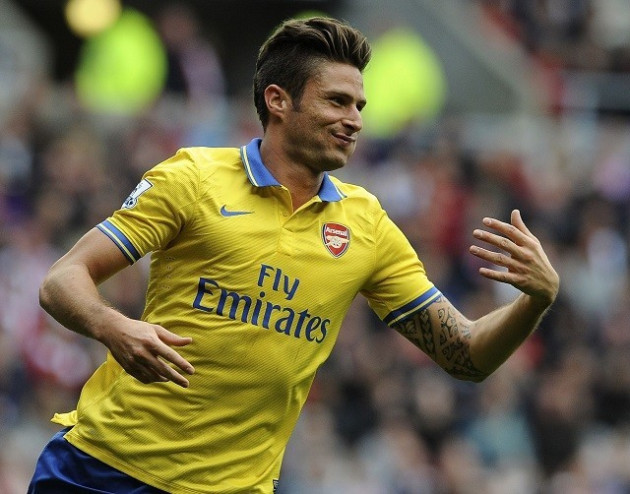 "With this team I can score many goals. Can I finish the league's top scorer? I must have a chance," Giroud said.
The striker believes that the wealth of creative options behind him will help him raise his tally. The Gunners were already brilliant creatively and the introduction of Mesut Ozil to the squad is likely to give them another dimension as was shown in his debut against Sunderland.
While missing training due to illness the other day, the German, in spite of not being fully fit racked up his first assist of the league with a beautiful touch and cross for Giroud.
"This is the best run I have had since I joined Arsenal and I think it is also my best form too. And now that we have our new player, it can get even better. We knew all about his [Ozil's] quality but when you are out there on the pitch, playing with him, he is even better," the Frenchman explained.
"He is always looking for opening and sees things so early while his first touch is simply amazing. You can see immediately that he is going to make this team better. But let's face it, with his quality, he would make any team in the world better. Not every striker is lucky enough to have players like Ozil, Aaron [Ramsey],Jack [Wilshere],Theo [Walcott] and [Santi] Cazorla behind them. I feel very fortunate," he said.
The Arsenal fans were in for a major shock when the Frenchman fell writhing on the floor after he twisted his knee while attempting to receive a pass from Aaron Ramsey. However, the striker allayed fears over his injury and revealed that he is fit to start in their opening Champions League game against Marseille.
"It is not bad actually, not as bad as I first feared. I got a kick earlier in the game but no-one was near me when I did it this time. I tried to connect with the ball a little bit too early and I caught my foot in the grass. I twisted my ankle but fortunately, it is nothing major. I am OK, sure I will be fine [for Marseille]," he enthused.