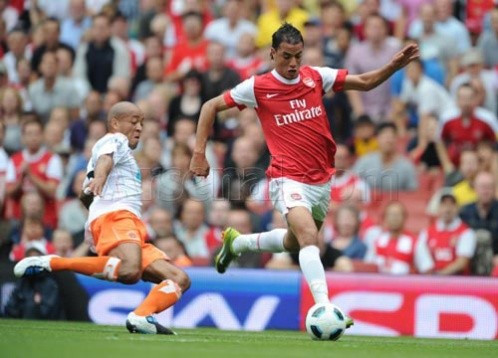 Arsenal striker Marouane Chamakh has been ignoring calls from Bordeaux over a possible return to the club, according to president Jean-Lois Triaud.
Chamakh has made just four starts for the Gunners this season, and has only scored one goal, in the club's 4-3 loss to Blackburn in September.
And while talk has been circling over whether Chamakh will indeed exit Arsenal in the January transfer window, Arsene Wenger has insisted that the striker will fight for his place on the squad over on-fire Robin van Persie, and Triaud claims he has been trying to get hold of the 27-year-old to move back to France and build up game time.
"I've left four or five messages with him in two months. I've also tried Wenger. But there has been no response," he told French radio.
Chamakh hasn't been able to compete with the likes of van Persie at Arsenal, with the striker currently in top form and scoring almost a goal a game. Van Persie's contract with the north London club currently runs out in under two seasons, and Wenger is keen to work out a new deal for the Dutchman as soon as possible.
Meanwhile, Wenger believes that Chamakh will get his chance at Arsenal, with the manager recently telling reporters: "Marouane is not going anywhere. There is not a problem with Chamakh.
"He is fighting for the position with Robin van Persie, who is in great form at the moment. He will get his chance; there are so many games at the moment."
Chamakh, who is originally from France, began his career moving through the youth ranks at Bordeaux, before heading to Arsenal from the club's senior ranks in 2010 on a free transfer. He broke Thierry Henry's record for the fastest goal ever scored in the Barclays Premier League, netting within 37 seconds against Wolverhampton Wanderers last November.
But the winter months were tough on Chamakh, with the 27-year-old admitting that he felt burnt out and had lost his edge. And with the emergence of van Persie since January, Chamakh has struggled for game time to have his chance to get back to full steam.