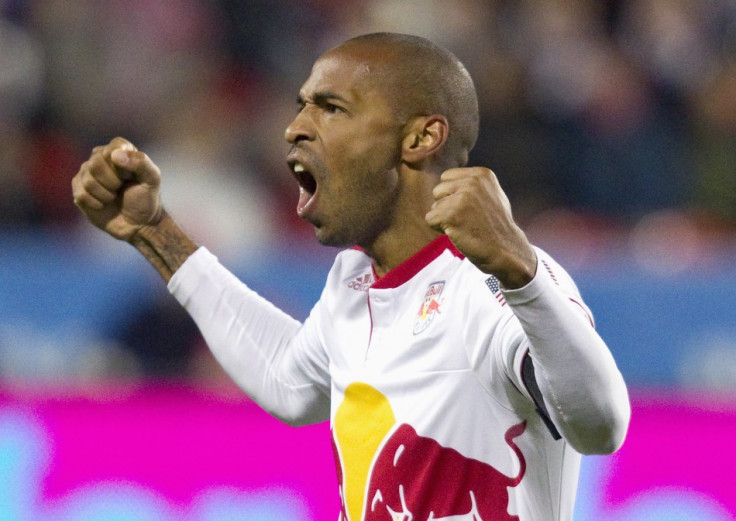 Thierry Henry believes that Arsenal will be putting all their efforts into beating Tottenham this weekend, with the Gunners desperately needing to take three points from the match to keep in Champions League contention.
Arsene Wenger's squad have suffered from a particularly up and down season, recovering from a poor start to their campaign to challenge for a top four spot, but looking very close to being kicked out of the Champions League last 16 after losing to AC Milan 4-0 in the first leg.
And while the club is particularly down at the moment, having lost to Sunderland in the FA Cup and squandering their seemingly last chance at a trophy this season, Henry still harbours hope that Arsenal can recover with a win over Spurs.
"For years we have been used to being on top of Tottenham, by a mile, and now it is the opposite. But this is the derby, which you don't want to lose, and we need those three points massively,'" Henry told the official Arsenal website.
"Hopefully it will be the derby that can spark the players, the fans, everybody at Arsenal. We'll see. The league is going to be very difficult but the top four is in Arsenal's hands.
"They have the squad, there is a long way to go, they have to play Chelsea at home, Tottenham at home, Newcastle at home, Man City at home... it is not impossible."
When Henry having completed his two month loan spell with Arsenal, fans called on their hero to remain for longer, but the striker explained that he owes it to New York to return and play his heart out for the side that agreed to let him return to the Gunners in their off season.
"They knew it wasn't the plan right from the start, but it did happen and it's kind of difficult for me to say no to Arsenal Football Club," he said.
"I didn't want to take advantage of the situation because they have been nice, the fans are waiting for me to come back with my team and prepare for the season with some new guys. For me it would have shown a lack of respect if I didn't come back at least to have the pre-season.
"I need to play the last three friendly games and then train with the guys and be involved with the team. That is important to me."
Henry will be hoping that both New York and Arsenal both win trophies at some point this year, and the 34 year old believes that though he is a little over passionate sometimes, he can work that into his favour in America in the upcoming season.
"I want to compete. Whether you win or you don't, who knows?" he said.
"But the desire is to win something with Red Bulls, for sure. Sometimes I am over-committed in some games with them, but that's just me. I am a passionate boy, sometimes I go too far, but that's me."