Jack WIlshere may have come through another 90 minutes for the Arsenal Under-21 side on Monday afternoon but it was the performance of Thomas Eisfeld that caught the eye.
The German midfielder scored both goals as Arsenal came from as goal down to defeat Everton 2-1 to remain second in the table on 16 points, just three behind leaders West Ham United.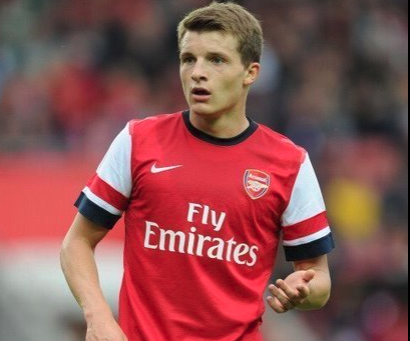 The introduction of an Under-21 Premier league has handed clubs the chance to see their best young players in action, often alongside more established first team players who are returning from injury.
Eisfeld was playing alongside the experienced duo of Emmanuel Frimpong and Wilshere, while Bacary Sagna was also continuing his recovery from the broken leg he suffered on the final day of last season.
The 19-year-old was unfortunate to miss out on a hat-trick when he hit the bar from 25 yards in the second half, however, his display was roundly praised by youth team manager Terry Burton.
"He can score! He is a very intelligent player and finds space well. When he gets opportunities in and around the box he very rarely disappoints," Burton told the clubs website. "He is intelligent and technically he is good. He puts those two qualities together and if he gets enough of the ball then he can cause a problem."
Eisfeld joined Arsenal at the start of the year when he signed a long-term contract after making the decision to leave German champions Borussia Dortmund.
The midfielder went on to make 12 appearances for the Under-19 side last season, scoring six goals and also contributing six assists as he quickly settled into life in England.
A regular at youth level for Germany, much like his fellow Arsenal team-mate Serge Gnabry, he is viewed as an exciting midfielder who can play in a variety of positions.
He will also be hoping to follow in the footsteps of his two fellow midfielders in the Everton game, Frimpong and Wilshere, both of whom are considered valuable member of the first team under Arsene Wenger.