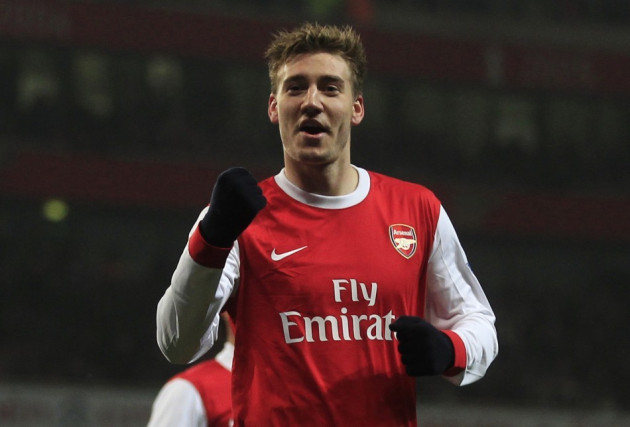 Danish international striker Nicklas Bendtner has criticised Arsenal's first team training programme.
The 24 year old Gunner is on loan to Italian champions Juventus for the season, after the Old Lady failed to land any of its first-choice striker targets, including former Arsenal striker - Robin van Persie.
"At Juventus, the training has been different to - and much harder than - anything I've done before. Because of that, my form is at a peak. I'm much sharper. Without playing, I'm down to fighting weight and that's never happened before," Bendtner was quoted as saying.
The comment about his weight will come as good news to his new club, who accused the striker of being far too out of shape to play competitive football. However, he still has much to do to prove himself. Juventus legend Alessio Tacchinardi was openly doubtful about how valuable a player Bendtner could be to his former club.
"I will not say Bendtner is a bad player but he does not help improve Juventus either," the ex-Italy international explained in a report by the Metro. The same report also said Bendtner had been put on a strict diet and training regime to become physically fit as soon as possible.
The Dane, who spent the 2011/12 Premier League season on loan with Sunderland (for whom he scored eight league goals in 31 appearances), has found life in Turin to very difficult though. The striker has made only one appearance for the Italian club so far, a 10-minute run-out as a second half substitute in Juventus' 2-0 league win over Chievo Verona.
However, despite his severely limited first team chances and comments from sporting director Giuseppe Marotta that the striker was not the club's first choice signing, Bendtner remains keen to prove himself in his first stint in Italy.
"I do not regret choosing Juventus, it was an easy transition to make and everyone at the club has made me feel welcome. I am very happy in Turin, it is a wonderful and ambivalent city. It's my wish to remain here after my loan finishes, but I must first prove myself, and to do that I need to play," he stressed.
Bendtner is on a season-long loan with an option to transfer for £5m.
He will have a wonderful chance to do just that on Tuesday night though, when Denmark play Italy in an international friendly. The game, scheduled to be played at the Giuseppe Meazza in Milan, should see Bendtner in good form. The striker scored his side's goal in the 1-1 draw with Bulgaria in a World Cup qualifier at Sofia on Friday.