Wenger Proves Ever The Tough Negotiator over Song Deal
Arsene Wenger drove a hard bargain before selling Alex Song from Arsenal, Barcelona claim
Arsene Wenger has proven that he continues to be a tough negotiator over selling players from Arsenal, with Barcelona admitting that it was particularly difficult to get hold of Alex Song during the present transfer window.
Wenger sold Song to the Catalan giants just last week, with the deal being announced by the club on Monday.
And as the midfielder gets settled in st Nou Camp, Barcelona vice-president Josep Bartomeu has admitted that Arsenal drove a typically hard bargain when selling one of their best players.
"It was not easy to bring Song to Barca," he told Goal.com.
"As happened with Cesc [Fabregas], Arsenal did not want to sell him and were asking a high price, but we are happy with what we paid both for Cesc and Song.
"The negotiations weren't easy, but the player wanted to come, and that made things easier. It was tough, but it all went much faster than other negotiations have done."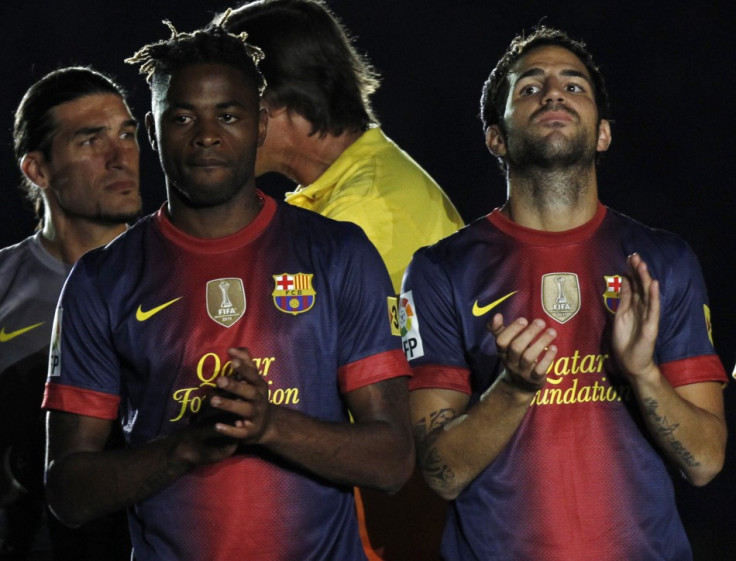 Song said yesterday that he couldn't be happier about making the move from Arsenal to Barcelona, with the 24 year old telling the Sun: "I'm so happy to be here because everyone knows Barcelona are the best team in the world. I'm feeling like a young boy.
"To be part of this team is something I wanted to achieve when I was young.
"I always tried to think 'I will play for Barcelona' and now I have the opportunity to be here and play with the best players in the world - Messi, Xavi, Iniesta, Fabregas."
Song will be joining former Arsenal teammate Fabregas on the side as they look to take back the La Liga trophy from Real Madrid and assert their dominance over the Champions League once more.
For Arsenal, losing Song as well as Robin van Persie will be a blow to the side, but there is still another week to go in the transfer window and with a deal looking close with Nuri Sahin, the Gunners may not be missing their African star for very long.
© Copyright IBTimes 2023. All rights reserved.