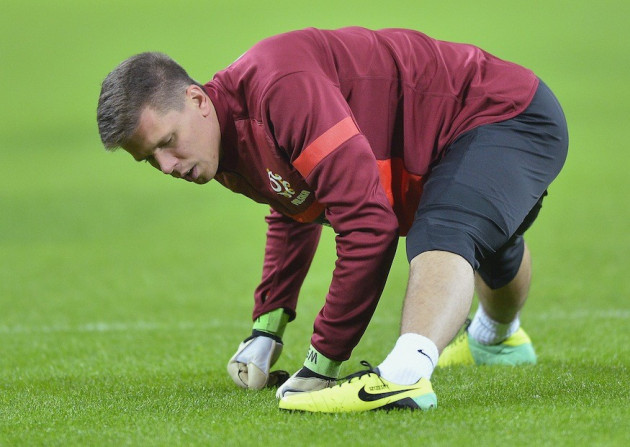 Arsenal manager Arsene Wenger has insisted that he always had faith in Wojciech Szczesny, effectively slamming the door on any hopes that Victor Valdes might join the north London club next summer.
Speculation has constantly claimed that the Gunners were in pursuit of Valdes with his contract running down at Barcelona. The 31 year old has said he wants to leave the Catalan giants in the 2014 summer and take on a new challenge and with Szczesny boasting inconsistent form Wenger was believed to be in the market for a new stopper.
But the manager insists he always believed in the Poland international despite leaving him on the bench on a number of occasions throughout the 2012-13 campaign, insisting that with Szczesny in front of goal Arsenal were able to finish both of their most recent seasons in a satisfactory position.
"That speculation didn't come from me," Wenger told the club's official website when asked about Szczesny's possible exit from the club for a replacement keeper. "I was always convinced that Szczesny would make it. I rate [Lukasz] Fabianski highly too.
"People forget with Szczesny that, at 23 years old, it is like being 18 for an outfield player.
"At 23 he has played two [full] Premier League seasons, one where we finished third and last year when we made 73 points and finished fourth. You would think that he can only go up."
Wenger admitted that Szczesny has displayed inconsistent form over the course of the last season but argued that he has learnt from his mistakes and will be on the ball in this current campaign after recovering from a disappointing Euro 2012 campaign with Poland.
"I think he questioned himself, especially after the European Championship in Poland where it was a massive disappointment for him [after he was sent off in the opening game] - I think it affected his belief," the Frenchman explained.
"He has matured through disappointments, like we all do. I believe every big player has to go through that in his career. And what may decide his career is how he comes out of that and I believe he came out in the way I wanted.
"It took him a while but he came back stronger. I took him out of the team last year and since he has come back into the team he has been consistent."