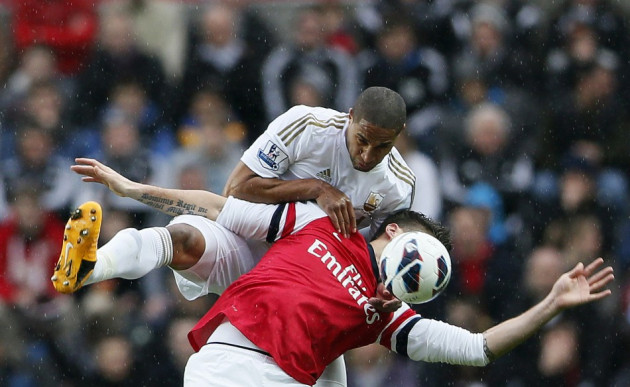 Swansea have confirmed that they are yet to receive an official offer for defender Ashley Williams as reports claim that Arsenal manager Arsene Wenger has been put off by his £10m valuation.
Williams has been a widely reported target for the Gunners, while Liverpool have also shown an interest in the centre back as he was identified as a possible replacement for Jamie Carragher.
While Arsenal had hoped to build on their defensive line-up in the summer, the side are yet to make their interest concrete, Swansea chairman Huw Jenkin has confirmed.
"I can honestly say I have not had one call from anybody about him," he told the South Wales Evening Post.
"There have been all sorts of stories in the press about what is happening with Ash, but I have never heard anything from anyone."
The Daily Express claims that the reason that Wenger is dragging his heels is because he doesn't believe that Williams is worth £10m, and is hoping that the Welsh club will lower their demands for the 28 year old.
Arsenal have been particularly busy in recent weeks as they reportedly tied up a deal for Real Madrid striker Gonzalo Higuain. Should the deal be confirmed then it is likely to break the club's transfer record and Wenger may decide to be more frugal with the rest of his funds.
Michael Laudrup admitted this month that Williams could leave Swansea if the right offer comes in but he would be loathe to his captain who has been instrumental in the club's success.
"There has been a lot of talk and let's see what happens," he said. "He extended his contract not so long ago, like I did. Maybe we have to accept one player will go, but not any more."