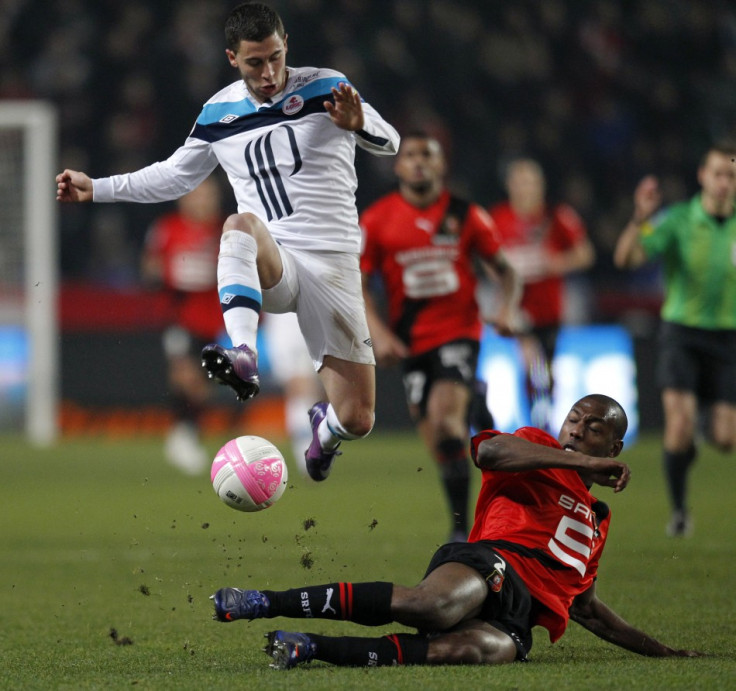 Lille playmaker Eden Hazard has confirmed Manchester City, Manchester United and Chelsea are the only transfer options he will consider, despite reported interest from Arsenal. The Gunners were believed to have entered the race for the 21 year old when Lille director Frederic Paquet stated a few days ago that the future of Hazard remained undecided as there were four clubs interested in his services However, the young Belgian has now revealed there are only three English sides in his mind.
"I do not know when a decision will be made about my future club. It will be between Manchester City, Manchester United and Chelsea. The final choice also depends on how much play that I would get and the position where I play. Not everyone can say that he can choose from these three clubs," Sky Sports quoted the midfielder as saying. Hazard, who is thought to be rated at £35mn by Lille, has notched up 20 goals and 16 assists from 38 league appearances in the recently concluded season to become the Ligue 1 Player of the Year for the second successive term.
In addition, according to a report by the Daily Mail, he will request the Number 10 shirt at whichever club he does join, although he will not push for the number should he join United, since Rooney already has that.
Meanwhile, Crewe Alexandra manager Steve Davis has denied United have completed the signing of the club's teenage sensation Nick Powell. There were reports the Red Devils had beaten off competition from Arsenal to land the highly rated 18 year old midfielder, who scored 15 goals for the Railwaymen last season. However, Davis dismissed it as speculation and said no deal would be struck for Powell, till the League Two playoff final against Cheltenham.
"At the moment it's just speculation. Nothing's solid and I'm sure nothing will be happening until Sunday's out of the way. Maybe next week we'll know a little bit more, but at the moment it's all paper talk. There's been no solid offer from anybody," Yahoo quoted the Crewe manager as saying.
"We've had it before with untimely press in terms of clubs linked with Nick. It's not news now. We know that teams have watched him. Every Tom, Dick and Harry has watched him (from the) Championship, Premier League - not just him, other players. There's other players we've got at this club and in the team that would be worthy of watching as well," Davis added.
It is believed the fourth tier club will demand at least £4mn for their sought after youngster.