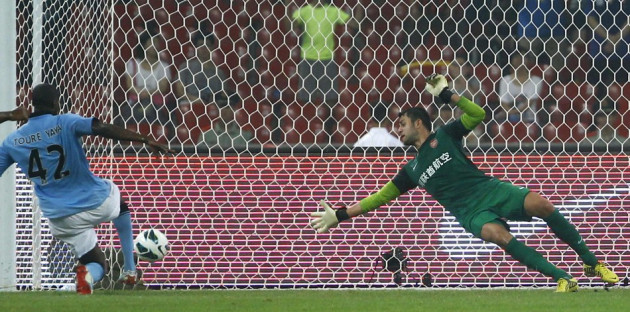 There is a battle of the goalkeepers brewing at the Emirates, and that may be some of the best news manager Arsene Wenger has had all summer long.
The Gunners have often been undone by the lack of a consistently top-class shot stopper between the posts, and this failing has seen them concede soft goals and lose valuable points more than once in the recent past.
The emergence of Polish international Wojciech Szczesny should have put those concerns to rest and Wenger's comments last season, in which the Frenchman described the Pole as having the talent to be a top-class keeper, settled the matter in favour of Szczesny and left his compatriot, Lukasz Fabianski, out in the cold.
The 27-year-old Fabianski then demanded an exit from the Emirates, stating he was tired of waiting for first-team football.
"I hope that my adventure with Arsenal has come to an end," he was quoted as saying in a Goal.com report.
"I intend to leave and play in a strong league. I wanted to leave in the winter, too, but Arsene Wenger did not give a green light," he added.
However, since then there appears to have been a change of heart for Fabianski, who has now been quoted in a report on the Arsenal.com website as saying he won't make the No. 1 jersey easy for his team mate.
"It can change very quickly," he told the website, adding: "From my own experiences I know that, so I am ready to step up. I feel confident that I am able to be No. 1. I am very happy, I must say. I had a little problem with my shoulder but so far everything has been going really well for me. I am happy with my fitness levels and the way I feel on the pitch.
"Pre-season is always a fresh start, and it is hard work for us. We [the keepers] have to do all of the running and gym work too, it's not like we just have to do just goalkeeping! It has been good work over the past few weeks," Fabianski explained.
The change in decision could well have come about once he realised that with the release of Spanish goalkeeper Manuel Almunia, Wenger really had only one first choice option in Szczesny. The boss does have Italian Vito Mannone as back-up but the youngster's performances in the few appearances he has made does not suggest anything more than a strictly second-string role at the club.
Meanwhile, Fabianski also spoke of how concentrating and improving himself, mentioning that he was working on dealing with crosses into the box and that Szczesny, Mannone and he were also working on positioning.
"At the moment I would say we are especially focusing - particularly us goalkeepers - on positioning ourselves in certain situations," he explained, "We are doing a lot of work with the 'vipers' that let us build up power in our legs, so everything that can help us improve. I didn't have too many opportunities to play last season but I am always focused and looking to improve, especially dealing with crosses because I think that is really important for a goalkeeper."
Szczesny Promises Improvement
Meanwhile, Szczesny admitted the Gunners needed to work on defensive arrangements and that 49 goals was way too many for a serious title challenger to concede. The 22 year old added that he was sure the Gunners' new defensive coach, Steve Bould, would improve the situation.
"I don't think we can concede more goals than we did last year. Hopefully the number will be much lower. I was the one in goal, I was the one conceding all those goals, so I can't be angry at people. I'm just disappointed because it shows our defending was a big problem for us last season," the international was quoted as saying, "We'll do everything we can to make it better. Steve Bould has been doing some fantastic work with the defence. That seems to be working very well. It all makes me believe we'll be that little bit stronger."