Update: Michael Essien will not play as Chelsea face Atletico Madrid in the Super Cup final in Monaco tonight.
Talks between Arsenal and Chelsea over the loan of Michael Essien are taking place, according to reports, with the 29 year old set to make the move to the Emirates for the season ahead.
Essien has struggled for game time for the Blues over their past campaign, and the Daily Mail were reporting that while Roberto Di Matteo wasn't overly keen to send one of his senior players to a Premier League rival, after successfully sending Yossi Benayoun to the Emirates the club are willing to hold talks.
And now African correspondent Oluwashina Okeleji says that sources are claiming Arsenal are in talks over bringing the Ghana international to the other side of London.
"West to North: It's confirmed Arsenal and Chelsea are currently discussing loan terms regarding Ghana midfielder Michael Essien," he Tweeted.
With a more senior defensive player on the list at Arsenal, the rest of the squad will have more trust in their back line-up to deliver - an area that was lacking last season as the side had their worst start to a campaign in over 50 years.
Arsenal have been very quiet today, particularly after Arsene Wenger said yesterday that he was planning on making another addition before 11pm hit.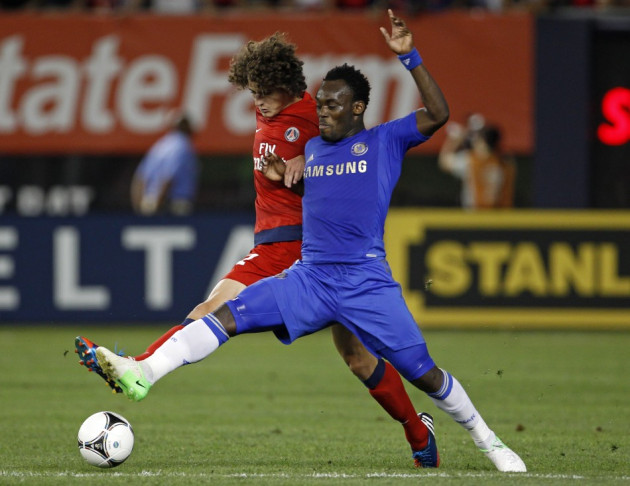 While the Essien deal is still only reported, there have been no claims that the club are chasing any other player, and with Bendtner having left early on in the day, and Park Chu Young making an exit on loan, the Frenchman will no doubt be looking at whether he believes his squad is strong enough to outlast the next six months.
For Arsenal, one of the most pressing issues has been whether Theo Walcott will stay, with the winger entering into the final 12 months of his contract.
But Wenger is confident that he won't need to move heaven and earth to keep one of his top players, telling reporters in a press conference today: "Theo is 23. He's English, he lives 10 minutes from here. So hopefully we can find an agreement at some stage.
"It was never a hard-line approach, always a soft-line approach, but with respect of our wage structure.
"Every decision we have a general line of conduct that is our wage structure that we want to respect. If we don't do that we will go nowhere. It is of course different for a 29-year-old than a 23-year-old."