Former Fiorentina midfielder Daniele Amerini claims Arsenal target Stevan Jovetic will leave the Viola this summer.
The 23-year-old forward has been strongly linked with a summer move to the Emirates in recent weeks and is now touted as Arsene Wenger's top summer target. Fiorentina are likely to miss out on Champions League qualification yet again and Amerini feels the Montenegro international will leave the club at the end of the season.
"He still has a contract with Fiorentina, but honestly I think it will go away," Tutto Mercato quoted the Italian as saying.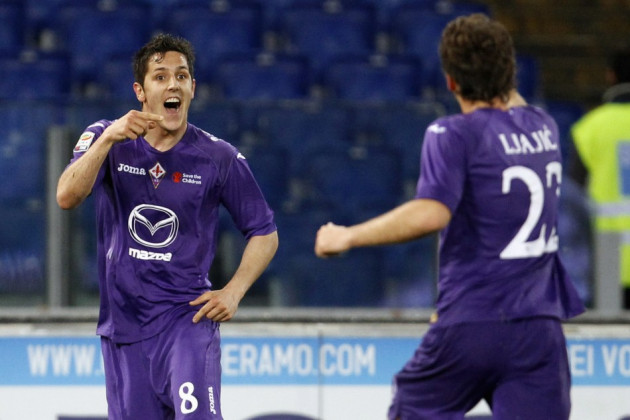 Jovetic current contract with Fiorentina runs till 2016 and the striker has been valued at around €30m [£25m]. However, Amerini insists the player will not fetch such a big transfer fee.
"I do not think [he is worth that much]. Undoubtedly Jovetic is an important player, but for what he has shown in recent years I do not think is worth that kind of money," the 38-year-old added.
Jovetic has 12 goals and four assists to his name from 30 Serie A appearances this season but has struggled for form in recent weeks and has not scored since March.
The forward had earlier revealed his affinity towards Arsenal and the Premier League, admitting he would like to be part of the English top flight in the near future.
"I've heard about Arsenal's interest. It's a big pleasure for me to be on the radar of such a big club. I am happy about that. I've always had an affinity with Arsenal. It's a major club with a big tradition, one of the biggest in Europe," Jovetic said in March.
"It's not easy to replace [Robin] van Persie, who scored a lot of goals. Arsenal have plenty of players who don't score like Van Persie, but are also very good. They are still very strong. I often watch Premier League games on TV. It's one of the best leagues in the world and looks tempting for me. Maybe one day I will play there, " the Montenegrin added.