Arsene Wenger has urged Theo Walcott to commit his future to the Gunners. The 23 year old England international has yet to agree a contract extension to an existing agreement that expires in the summer. The former Southampton youngster and the north London club have been engaged in talks for the better part of the past few months and failure to agree terms before the January transfer window could see the Emirates club lose the winger for free next summer.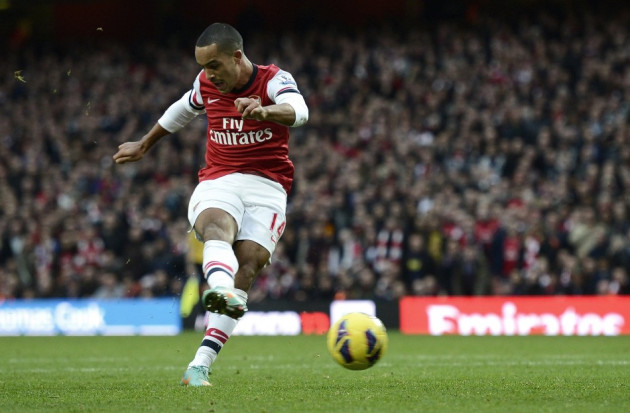 "It is very important in our sport to be very committed to where you are, and as long as you do not do that, you are not completely at ease. It is important for our squad as well that he is completely committed. I do not doubt it, but as well at some stage it has to be concrete," the manager explained.
Disagreements between Walcott and the club centred on salary and playing position, with the player reportedly demanding £100,000 per week and the promise of a central striker's role. The club proposed £75,000 per week, which was rejected, and made no official commitment on playing Walcott as a striker, beyond admitting he had considered the possibility and that the player displayed the necessary qualities.
However, a recent report suggested the concerned parties were moving closer towards signing a new five year deal that would see Walcott earn between £80,000 and £90,000 per week and a regular starting berth. And with that improved offer on the table, the Mirror reports the club have now adopted a sign-or-leave policy with their star.
If that is true and if Walcott does not sign, then he will likely be sold in January, to avoid losing him for free at the end of the season. And that is unlikely to go down well with the club's fans, who are already up in arms over sales of high-profile players and the subsequent lack of replacements.
The England international has been linked with Liverpool and Chelsea since this whole saga started and it is more than likely that both the Blues and the Anfield outfit will be willing to satisfy both of Walcott's demands - money and a striker's role - given particularly that both clubs have very limited senior resources up front.
Should Walcott force his exit though, he will mark a third consecutive season of high-profile departures from Arsenal. Other players who have left the club in recent transfer windows include former skipper Robin van Persie, midfielders Alex Song, Cesc Fabregas and Samir Nasri and left back Gael Clichy.