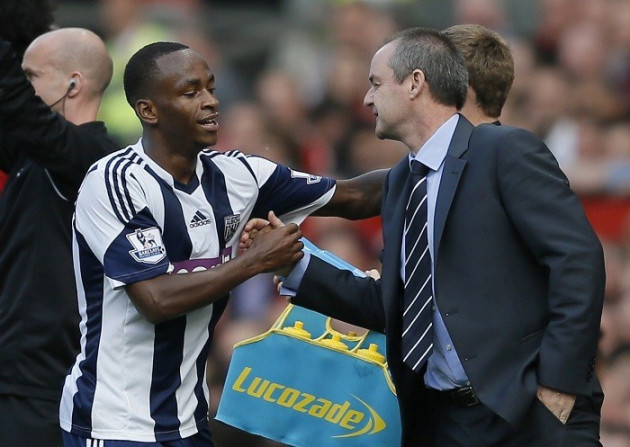 Arsenal and Chelsea are preparing to go head to head in a bid to sign West Bromwich striker Saido Berahino, who has refused a new contract with the Baggies.
The Mirror reports that the player is willing to move in January which will increase his chances of featuring in the 2014 Fifa World Cup in Brazil. The striker is among the most poorly paid players in the Premier League at only £850 a week and the Baggies have offered him an increased package of £7,000 a week, which has been rejected by the England U-21 international. Berahino has been in brilliant form thus far, scoring goals for fun and will be a good buy for the London clubs vying for his signature.
Failure to sign a new contract could lead to him leaving next summer for as little as £300,000. Arsene Wenger has stressed the importance of building a British core and Berahino would complement the likes of Theo Walcott, Aaron Ramsey, Kieran Gibbs, Jack Wilshere, Carl Jenkinson and Alex Oxlade-Chamberlain. The Baggies do have a clause that allows them to extend his contract till 2015 and are likely to exercise the same unless they receive a suitable offer.
England manager Roy Hodgson is tracking his movements and is likely to call him up for the England squad having seen him score six goals for the U-21s and also against Manchester United in the league at Old Trafford. The former Liverpool manager has a penchant for bringing young players into the team, with Jack Wilshere and Alex Oxlade-Chamberlain both regulars.
Chelsea have three strikers in their ranks but are in the market for another as the current crop have failed to deliver. Jose Mourinho was in for Wayne Rooney last summer but had to admit defeat as the 27-year-old decided to continue plying his trade with the defending Champions.