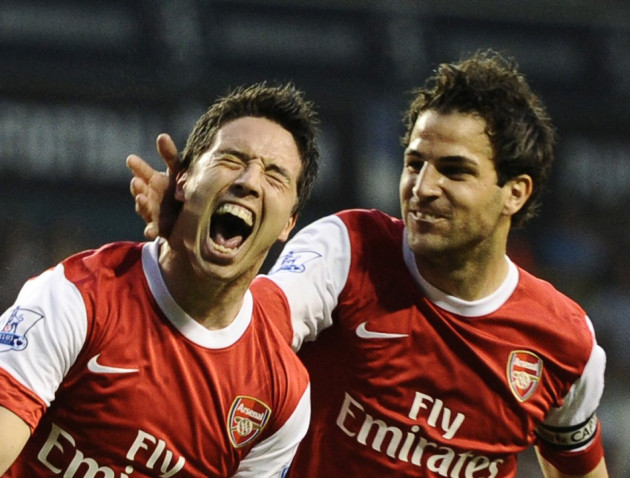 Arsenal face the prospect of losing both Cesc Fabregas and Samir Nasri this summer, if reports are to be believed.
Barcelona made a renewed offer of £35m for the Arsenal captain on Wednesday, after a £27m bid was rejected last week.
Discussions are ongoing between the Premier League club and the current European champions but there is a sense that a resolution to the saga is near and Fabregas will get his wish to move back to the club where he started his career.
The 24-year-old pushed for a transfer last summer, when Barcelona submitted two bids for him, only for Arsene Wenger to block the deal.
But the club are believed to have softened their stance since last summer, with club officials resigned to losing Fabregas but aware that they will receive significant compensation for a player they signed for free in 2003.
Earlier in the week, former Arsenal shareholder Lady Nina Bracewell-Smith said: "It is obvious he wants to go. You cannot keep a player when his heart is not in it."
Reinvestment
Lille striker Gervinho is expected to arrive in London in the next few days to discuss personal terms ahead of his £12m move to Arsenal.
However, negotiations for the Cote d'Ivore international have been ongoing for several weeks, with Lille yet to receive a formal bid for the 24-year-old.
The Emirates outfit have also been linked with a move for Inter Milan goalkeeper Emiliano Viviano, according to The Sun.
The newspaper reports that Arsene Wenger is set to make an £8m bid for the 25-year-old who could be the solution to the club's ongoing goalkeeping woes.
The Daily Mirror suggests that Arsenal are also keen on Sunderland keeper Craig Gordon, who has one year left on his current deal.