Jack Wilshere says he will reconsider his Arsenal future if Arsene Wenger leaves the Emirates. The long-serving Gunners' boss is in the final season of his contract in north London and has so far played down all talk of an extension, leading to speculation he will return to France to manage Ligue 1 champions Paris St Germain (PSG) next season.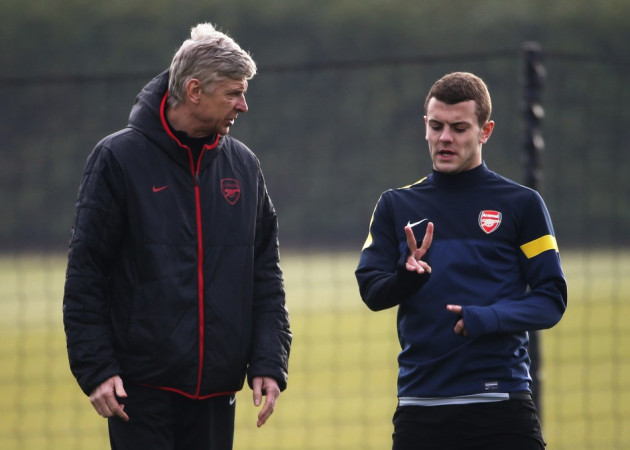 Wenger has also come under immense pressure over the past few seasons, following an eight-season trophy drought and the steady loss of key players such as Cesc Fabregas, Samir Nasri and Robin van Persie to title rivals and foreign clubs.
'I want to win things with Arsenal and I want to be there, but if the boss leaves then things could change. Arsenal are always in my heart and signing a deal for the next five years shows my commitment to them and their commitment to me," Wilshere said.
"Arsene Wenger has been there for so many years and he's always delivered trophies. OK we've had a little dip in the last five or six years, but he's a great manager and people who question his ability are ridiculous. He's qualified for the Champions League for 16 years so I think he's the right man for the job," he added.
The pressure on Wenger has grown to the extent that the Arsenal Supporters Trust (AST) have warned their club against offering the Frenchman a new contract. They say a new deal has to be earned rather than offered on the basis of achievements from nearly a decade ago. Their view was made public after club chief executive Ivan Gazidis declared his support for his manager.
"We think we have a fantastic manager. I think he is still ambitious, still driven and sees the potential of the club. We have a great relationship. We have a lot of confidence in Arsene that he is the right person to take the club forward and I think he will want to do that," he said in June when talk of a new deal made the rounds.
Wilshere, meanwhile, hit back at critics of the side and said that if they could keep key players this season and moving forward, they would win trophies in the long-run.
"First we lost Thierry Henry and then Cesc Fabregas, Samir Nasri and Robin van Persie. That's hard, especially when Robin went to another team in England. But now we've got a good crop of young English players coming through and if we stay together and build something we can win a trophy," the England international concluded.
Arsenal face Fulham at Craven Cottage on Saturday afternoon, in the second game of the 2013/14 Premier League campaign. They were roundly beaten 1-3, at home, by Aston Villa in their first fixture last weekend.