Arsenal vs Chelsea: Jose Mourinho blasts Arsene Wenger over 'easy to defend' jibe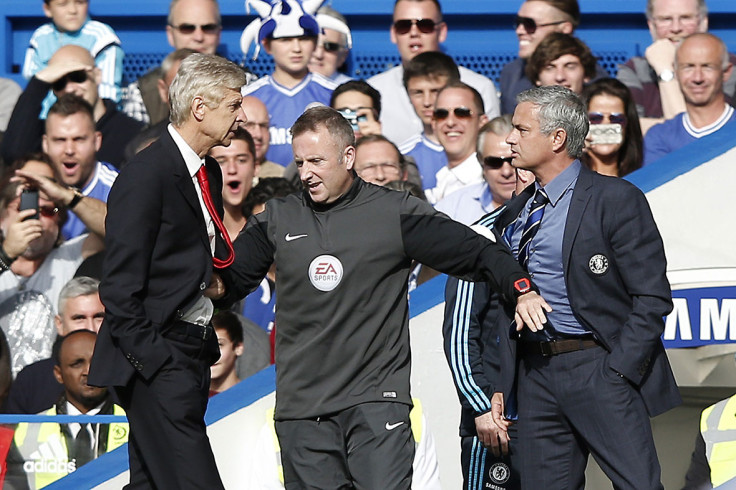 Jose Mourinho has taken offence at Arsene Wenger's comment that it is "easy to defend" and has retorted by ridiculing Arsenal's Champions League exit to Monaco, influenced heavily by their 3-1 loss to the French club at home.
The Gunners crashed out on away goals after they put in a valiant effort to win the game 2-0 at Monte Carlo, but it proved to be too little too late for the north London club who found themselves crashing out of the round of 16 phase of the tournament for the fifth year in succession.
Mourinho, who has been criticised for his propensity to defend and attack on the counter decided to hand one back to Wenger, who has won plaudits for his free flowing style of football. The two-time Champions League winner insinuated that if it were so easy to defend, the Gunners would not be relieved of Champions League action as early as March.
"It's not easy, not easy. If it was easy, you wouldn't lose 3-1 at home to Monaco. If he defends well he draws 0-0 against Monaco and wins in Monte Carlo. It's not easy to defend," Mourinho quipped.
The Portuguese manager has an enviable record over Wenger, and is yet to lose a single game against his revered rival thus far, winning seven and drawing five of their past 12 encounters. A win at the Emirates, will all but seal the title for Chelsea, who can get their hands on the trophy three days later against Leicester City.
However, the manager does not begrudge the criticism he faces for his obduracy when it comes to defence and has hit back by saying that everything will be forgiven when he has his hands set on the league title.
"If we win the title this season, I don't care where and how. I just want to be champions. It matters what I feel, not what people feel, think or say," Mourinho said.
"We are the best team since day one, and we want to be the best team until the last day.
"We are top of the league since day one. We are the second team in terms of goals scored. We are the second best team for goals conceded. The team with fewest defeats," he concluded.
© Copyright IBTimes 2023. All rights reserved.